Craft Beer in Cans Survey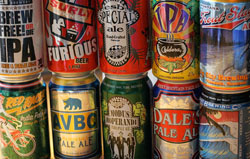 Back when we started our club in 1994, the only beers that came in cans were the kind with multi million dollar ad campaigns featuring bikini models, dogs, frogs, horses, and dubious slogans like "great taste…less filling" – not exactly the sort of beers we're interested in here at The Microbrewed Beer of the Month Club.
Thus, for many people, canned beer had the perception of cheapness in both quality and price, but thanks to award-winning breweries like Oskar Blues, Cigar City, Sixpoint, Sly Fox, The Alchemist, and dozens more who are now choosing to can their beers, that perception is changing fast.
Advantages of Cans:
Cans fully protect beer from harmful light, which is particularly important with hoppier styles; are totally airtight to keep beer fresh longer, especially lighter, more delicate styles; weigh much less than glass and are easier to ship; never shatter; are outdoor-activity-friendly; are easier to recycle; and even cool down faster in the fridge. And, just like with draft beer from metal kegs, there's no chance of it tasting metallic when it's served in a glass, mug, or cup.
So what say you? Featuring all canned beers in a monthly shipment a few times per year will open up a lot more brewers to us and enable us to bring you many more fantastic beers. Please let us know your thoughts!