Rare Beer Club 2-Bottle Selections - December 2017

---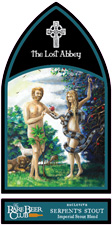 Blended Serpent's Stout [Rare Beer Club exclusive]
The Lost Abbey — San Marcos, California

[Blended Bourbon-Barrel-Fermented Imperial Stout - 11% ABV]
Most of our Rare Beer Club members will instantly recognize the names "Port Brewing" and "The Lost Abbey" and "Tomme Arthur"-the gifted brewer associated with both. All three have come to mean excellence in brewing and envelope-pushing, boundary-testing beers. We've had the good fortune of working with Tomme previously on Rare Beer Club exclusives, and we're excited to bring yet another one to our members this month.
This new exclusive blend combines the brewery's delicious Serpent's Stout imperial stout with a bigger, bourbon-barrel-aged version of the beer. We've hugely enjoyed both these base beers on previous tastings-but the team was able to pinpoint a blend that takes this combo to whole other level, in a perfect balance. This Blended Serpent's Stout is one of the tastiest experiences we've had from this brewery. While the dark depths of the base imperial stout-laden with cocoa, and loads of dark chocolate, roast, and dark fruits-are more than enough on their own, that addition of a rich, charred, chewy bourbon-barrel influence brings so much more out of this beer. And while the original bourbon-barrel-aged Serpent's Stout knocked our socks off, this blended version is our Goldilocks-level "just right" one. The carbonation's just enough to add a liveliness to the dense chocolate, nougat, and cocoa powder that pervades this beer: huge, lush flavors that coat the tongue and need those bubbles accordingly. With the lightly warming elements from the bourbon-barrel, plus a subtle edge of oak tannins, the overall feel here is sublime: richly rendered dark fruits, with milk chocolate and barrel influences-but perfectly textured to show all the delicious parts. This is a can't miss for fans of big stouts!

Petrus Brewmaster's Selection: Wild Tripel Ale
Brouwerij De Brabandere — Bavikhove, Belgium (West Flanders)
[Petrus Tripel w/ Amarillo & Cascade hops (85%) blended w/ Foederbeer aged 24 months in oak foeders (15%) - 8% ABV]
Brouwerij De Brabandere, previously known as Bavik brewery, was founded by Adolphe De Brabandere back in August 1894. Ignace De Brabandere has headed the brewery for decades now, the latest generation of this family-run brewery. While the brewery today touts a variety of brands, Petrus Oud Bruin served to bring them an early acclaim, as did its especially tart base beer-beloved by Michael Jackson, who came up with its name-Aged Pale. Other successful releases such as Petrus Tripel and Petrus Special followed, with the brewery taking home numerous national and international awards. Today, its lines include Petrus Tradition and Sours, Bavik Super Pils and Wittekerke.
This first release in Brouwerij De Brabandere's Brewmaster's Selection series was crafted by the brewery's most experienced Master Brewer: Chris Van Acker, who's spent more than 30 years of his career honing his skills there. This beer is a one-time offering that's never before been sold in the U.S. There's some very limited U.S. distribution slotted for around February, but our RBC members will be getting this beer at least a couple months prior.
Wild Tripel Ale brings together a number of disparate influences into a beautifully crafted blend of beers. 85% comes from a special batch of the exquisite Petrus Tripel that's had five different additions of the hugely expressive Amarillo and Cascade hops (three times during the boil, a fourth at flameout, plus a dry-hop addition). To that magnificent base is added a 15% portion of the brewery's foeder beer: a vibrantly acidic counterpoint that has spent 24 months maturing inside of oak foeders. From the moment this pleasantly hazed and vibrant golden brew is poured, there's a ton of peppery phenolics from the underlying Petrus Tripel: loads of bitter, spicy and fruity Belgian-yeast character. The citrusy and orange-tinged contributions from the Cascade and Amarillo are pulpy and fresh. Flavorwise: layers of peppery and honeyed goodness, lean in body but packed with flavor, with grassiness and herbal notes expressed as prominently as that citrusy hoppiness. The influence of the underlying 15% foeder beer is soft oak and tartness near the periphery, a secondary layer that keeps everything feeling very lively.

Click here to read or download this month's full newsletter.
As always, if you have any questions or want something different from what we have listed above, please contact our Customer Service Team at 800-625-8238 and we will do what it takes to make it work.
Cheers!
Kristina Manning
Customer Service Manager