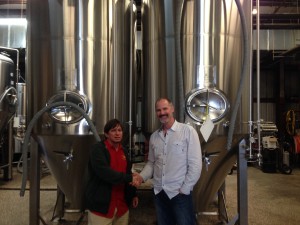 I had the pleasure of sitting down with Cigar City's head brewer, Wayne Wambles and owner Joey Redner last month to discuss the beer they're crafting for us to celebrate our 20 year anniversary this year.  First off, what  cool couple of cats to spend a couple hours out of their day with me. They're one of the hottest breweries in the country, growing like wildfire, in the midst of a major website update and brewery expansion, and they gave me all the time I wanted, never rushing me along.
I got even more excited about the Spanish Cedar aged Imperial IPA they're making for us after Wayne walked me through the recipe and where he was going with this beer.  He promised to make me a video that we can share with you all taking you through the recipe creation process. Suffice to say, it's gonna rock your world.
Stay tuned for a contest to name the beer where you'll have a chance to win a 3 month membership to The Rare Beer Club.
Prost!
Kris