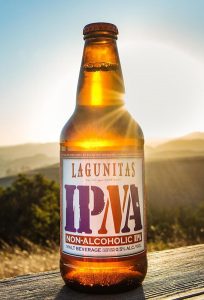 A friend recently brought over some bottles of Lagunitas' IPNA for me to try, back when he was doing Dry January—and I've found myself picking up occasional six-packs of it since. If you're not familiar: this is Lagunitas' non-alcoholic IPA, which they released toward the end of 2020. For me it's pretty comparable to an actual IPA and, as I've been trying to take more days off from alcohol throughout the week, it's been a helpful option for taking the edge off. I've had minimal experience with non-alcoholic beers, but it's made me curious to try more.
One of my local shops has a whole non-alcoholic beer section, and I've been slowly working through things, finding some good n/a options for the off days. Athletic Brewing's IPA was a bit less satisfying, but they've got a whole range of n/a releases: from hazy IPA to gose to a maple brown. Paulaner Weizen-Radler did the trick, combining a subtle hefeweizen core and spritzy lemon juice, and these have been solid beside spicy chicken sausages as a lunch-beer alternative. Weihenstephaner has an n/a wheat beer I need to check out, and I'll get around to the various spendy Mikkeller options out there (really enjoyed their Drink'in in the Sun a friend brought on a beach trip). Note that n/a options tend to be priced like normal beers; I see these as being an occasional pickup, when I'm looking for hops etc., just sans alcohol.
Have you headed down the non-alcoholic-beer path yet? Spelunked the non-alcoholic IPA caves? Finding anything particularly good? Hit us up on Twitter via @RareBeerClub.