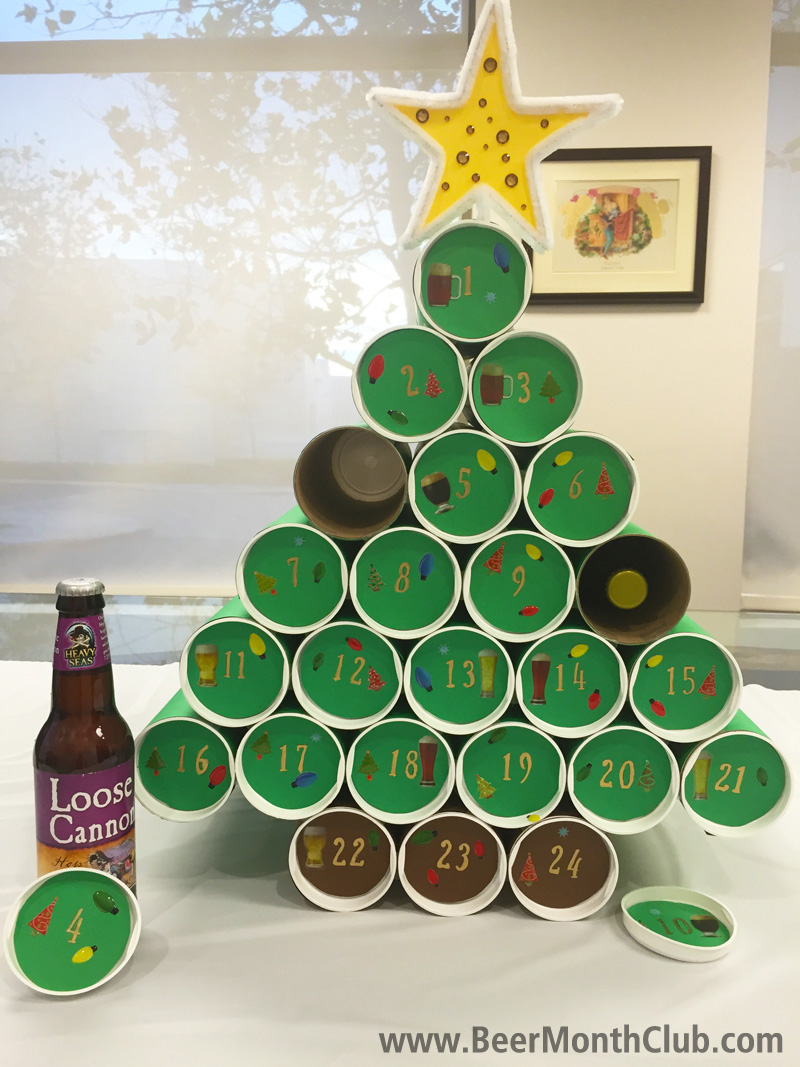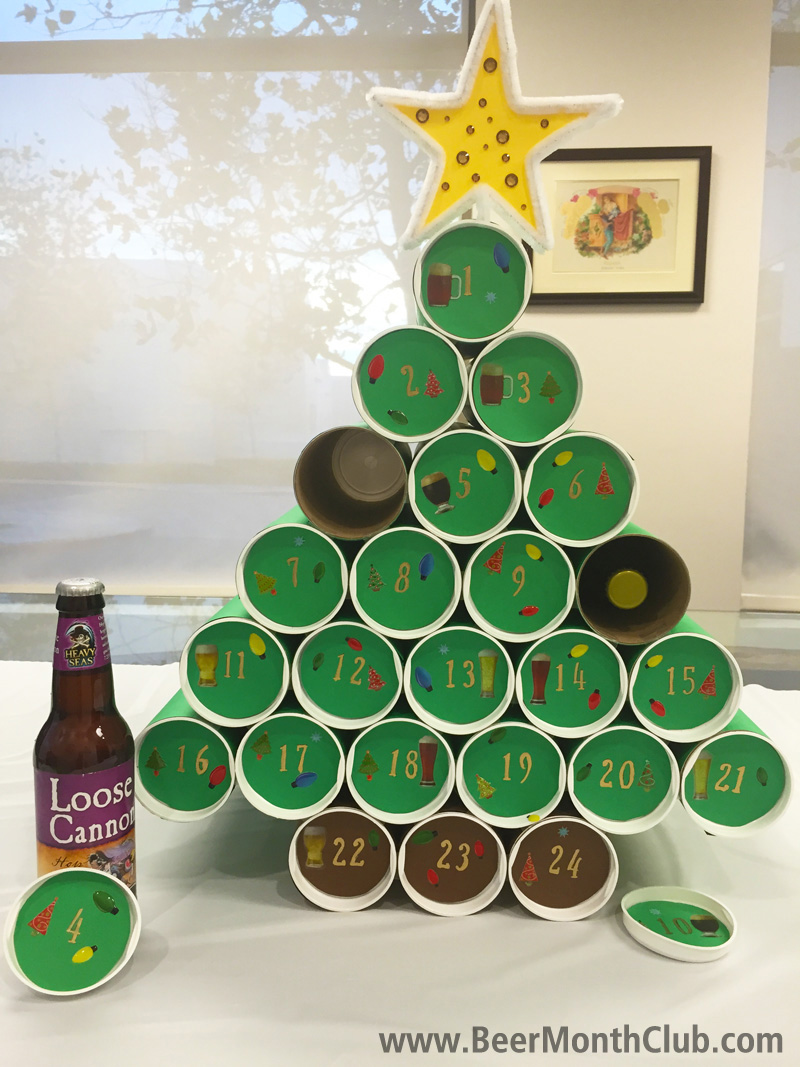 The holidays are packed with traditions. Things like Christmas trees, carols, cookie baking, drinking Christmas beers and winter warmers, and frantic, last-minute gift shopping keep us busy throughout the season, but it's the little traditions that make it so enjoyable. Customary gifts, like advent calendars, are classic holiday mainstays that plenty of parents give to their kids. What's not to love about getting a surprise piece of candy every day for 24 days? Count us in. But, what about those who want a little more in their advent calendar? Well, The Microbrewed Beer of the Month Club™ has got the perfect homemade solution: a Craft Beer Advent Calendar.
Yes, you read that right: an entire DIY advent calendar full of sweet, delicious craft beer. The Microbrewed Beer of the Month Club™ has noted the rising popularity of these great gifts, and we've decided that it's time to ensure everyone knows how to make one for the beer enthusiasts in their life. When you give someone a Craft Beer Advent Calendar packed with tasty microbrews, you aren't just giving them a craft beer Christmas gift – you're giving them 24 days of great beers. Santa's got nothing on you.
How to Build a Craft Beer Advent Calendar
Steps:
Decide on a design (square, rectangular, or triangular)
Cut shipping tubes or dividers
Glue shipping tubes or dividers together
Fill each tube with a craft beer bottle or can
Decorate
Enjoy
Building a Craft Beer Advent Calendar isn't as easy as grabbing a random box in your house, throwing in your extra/unwanted beer, and putting some wrapping paper over the top. You need the right materials, some spare time, and a little bit of craftiness (or at least those "cut stuff up and glue things together" skills you hopefully mastered in kindergarten).
Start by deciding which design you want to use. There are three common options: square, rectangular, or triangular. You can find plenty of DIY beer advent calendar instructions all over the web, but making your own homemade Craft Beer Advent Calendar doesn't require a Master's in structural engineering. The Microbrewed Beer of the Month Club™ has got you covered with the basics.
Tools & supplies for a square or rectangular Craft Beer Advent Calendar:
• A box or a case of beer
• Cardboard dividers
• Glue
• Scissors
• Wrapping paper
• A marker
For the square and rectangular options, you can easily use a moving box or a used case of beer, specifically the kind with built-in cardboard dividers – any case of bottled beer should have these. You can choose to lay the box on its side, or keep it flat on its bottom. Simply place your beers into the box, make sure they're held in place with the dividers, and cover the top with festive wrapping paper. Mark the locations of each beer using the numbers 1-24, and you're set. Feel free to pat yourself on the back and enjoy a celebration beer (NOT one of the beers from the calendar). If you want, you can add a 25th slot for a little extra something something. More on that below.

Tools & supplies for a triangular Craft Beer Advent Calendar:
• Poster/shipping tubes
• Glue
• Scissors
• Wrapping paper
• A marker
• Stickers (optional)
Now, for those with a craftier side, the triangular option offers a little extra fun. You'll need to buy some long shipping tubes capable of fitting bottles or cans, and then cut these up into 24 even sections. Glue them together however you want, though we suggest making it triangular, as it'll look a little like a Christmas tree. You could even put a star on top if you're feeling particularly festive – we won't judge you.
After gluing the tubes together, fill the tubes with tasty beers, decorate and cover the front with a little wrapping paper, and mark the tube openings with the numbers 1-24. You now have a triangular Craft Beer Advent Calendar to give to your best beer buddy. He or she's gonna love it.
An important side note that must be mentioned: don't be lame and fill your Beer Advent Calendar with a case of the same macrobeer. Be creative with the beer you choose by selecting unique beers from all 7 continents. Well, 6 of the 7, at least. We don't think anyone is brewing in Antarctica (even though that's an awesome idea). You could be extra festive and fill it with nothing but unique holiday beers!
Keep in mind that a Craft Beer Advent Calendar isn't confined to Christmas time. Arbor Day, Flag Day, Bring Your Daughter to Work day, it doesn't matter – you can make the 24 days leading up to any holiday special (and tasty) with your Craft Beer Advent Calendar.
Improving Your Beer Advent Calendar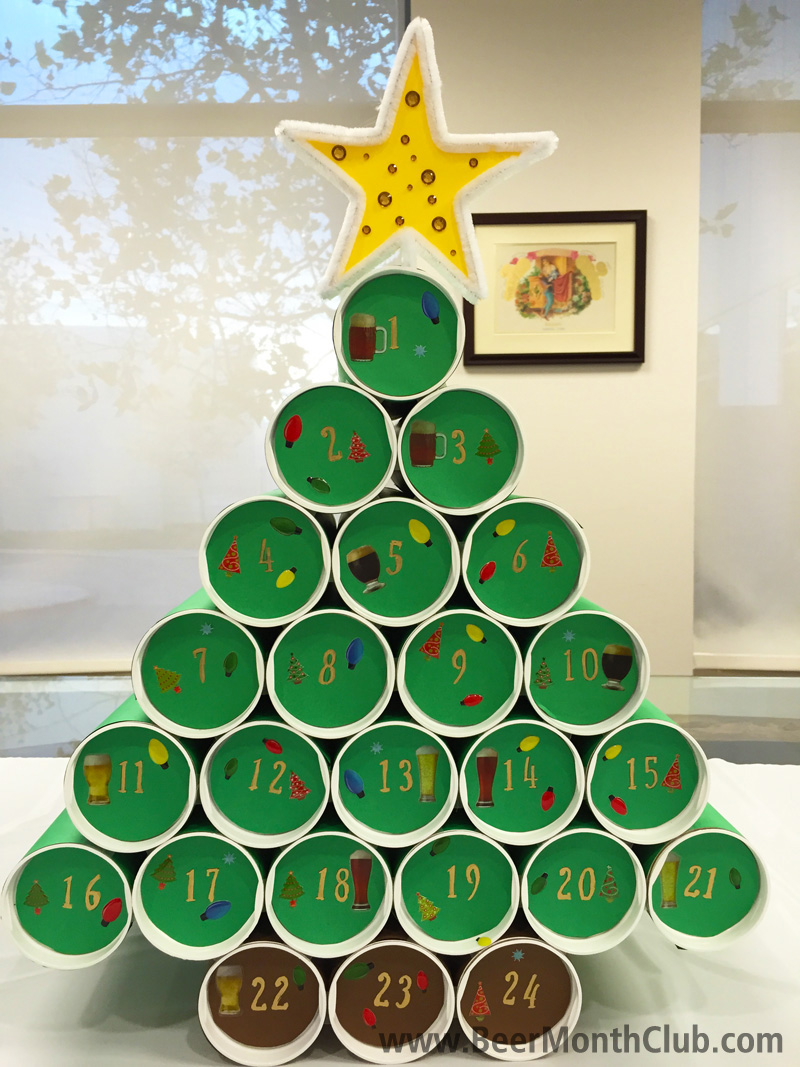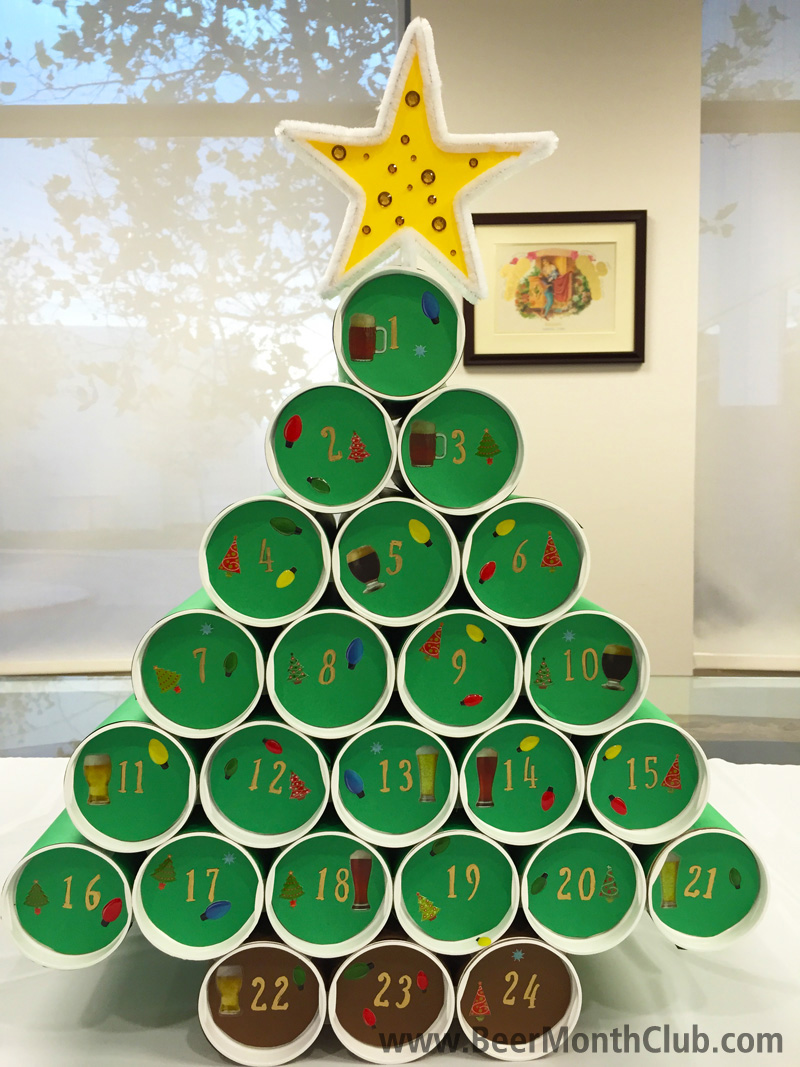 So, how do you improve on something as awesome as a Beer Advent Calendar? It's simple, really: you spread that cheer throughout the year.
A traditional advent calendar features 24 slots representing the 24 days leading up to Christmas, but who says that you have to follow tradition? Add a 25th slot, and give your friend a gift that keeps on giving: a membership to The Microbrewed Beer of the Month Club. After all, who doesn't want amazing craft beers from around the country (and the world) delivered to their door once a month throughout the year? No one, that's who.
For the widest selection of beers, choose between our brand-new Hop-Heads Beer Club, our U.S. Microbrewed Beer Club, our International Beer Club, or get the best of both worlds with our U.S. and International Variety Beer Club. But, if you've got a beer lover who spends their time and energy hunting down the rarest, most obscure beers, we'll suggest The Rare Beer Club™, our only club that features the world's best hand-selected rare beers.
Now, go out there, build your own Craft Beer Advent Calendar, and make some lucky beer lover's Christmas the best one they've had. And remember: if you really want to make sure they have the best Beer Year of their lives, give them a membership to The Microbrewed Beer of the Month Club. Santa always likes those who are nice.