Transport your taste buds to the tropics with this Jamaican spice blend. Also try it with skirt steak or pork chops.
Prep Time: 40 minutes
Total Time: 1 hour + marinating
Yield: Serves 4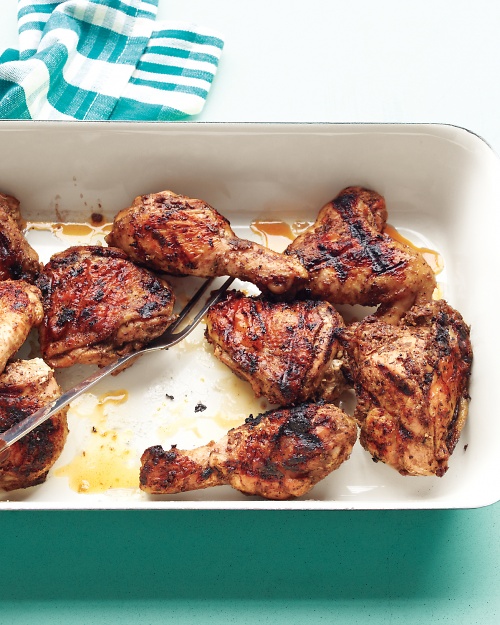 Ingredients
1 Scotch bonnet or habanero chile, stemmed
1 bunch scallions, cut into pieces
2 cloves garlic, smashed and peeled
1 1/2 teaspoons dried thyme
2 tablespoons packed dark-brown sugar
1 tablespoon ground allspice
2 tablespoons low-sodium soy sauce
2 tablespoons lime juice
2 tablespoons vegetable oil, plus more for grill
3 1/2 to 4 pounds chicken pieces
Salt and pepper
Directions
In a food processor, puree chile, scallions, garlic, thyme, brown sugar, allspice, soy sauce, lime juice, and oil. In a large zip-top bag, toss chicken with paste. Refrigerate at least 1 hour (or up to 1 day).
Heat a grill or grill pan to medium-low. Clean and lightly oil hot grill. Season chicken with salt and pepper; grill, covered, turning often to prevent charring, until cooked through, 45 to 50 minutes.
Recipe from Martha Stewart