We found this recipe from Beer Chow and thought that there is no better way to pair your favorite brew with pizza than actually using the brew to make the crust! So we thought we would share this recipe that can be grilled or baked and customized completely to your liking! 
Making your own pizza dough from scratch is simple and fun. The best part about this recipe is that you can use your favorite beer to create a great tasting beer pizza crust. While you can use a lot of different styles of beers for this beer pizza dough, don't use a beer that has a higher SRM than 13 or 14, otherwise your pizza dough will look burnt before you've even cooked it. I found that most American and German wheat beers work best with this beer crust. You can use the same beer to pair with the pizza when serving, or if your toppings are unique and strong in flavor you can pair a beer that might be more appropriate.
Yields: 2- 16″ pizzas or 5- 8″ individual sized pizzas
BEER PIZZA DOUGH INGREDIENTS
1 cup room temp Beer (insert favorite craft choice here, I lean towards Bell's Oberon most of the time)
1 tablespoon sugar
1 pinch salt
3 1/2 teaspoons active dry yeast (or 1 and 1/2 packets)
2 cups flour
1 cup corn meal
3/4 teaspoon salt
1/4 cup olive oil
extra flour as needed
PROOF YOUR YEAST
In a 2 cup Pyrex liquid measure add beer, sugar and pinch of salt. Stir in the yeast and allow to stand for 5 minutes, or until yeast starts to foam.
MIXING YOUR BEER DOUGH
To your mixing bowl, add flour, corn meal, Beer / Yeast mixture (that's the stuff in the Pyrex proofing), salt and oil, and beat on medium speed with the dough hook attachment. If the dough is sticky or tacky, knead in a little flour. Continue to beat until your dough is thoroughly combined and has gathered into a single mass.
Oil the inside of a large bowl, turn to coat bowl completely with oil but not having a lot of oil gather on the bottom, use a paper towel if necessary. Add your dough into the bowl.
PROOF YOUR BEER PIZZA DOUGH
Preheat your oven to 175 dF. Set your dough on top of your stovetop right where the heat from the oven would vent out. Cover the bowl with a damp kitchen towel. I prefer to drape part of the towel over the top back part of the oven and then over the bowl to allow the oven heat to vent into your bowl.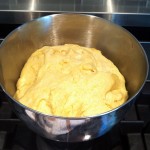 This technique will create a warm-humid environment for proofing. Dough is ready when it has doubled in bulk, about 1 hour. About 15 minutes into proofing turn your oven off.
To shape the dough, place dough on a floured surface and lightly flour the top. With floured hands, or a bench scraper, cut your dough in half. Shape 1/2 of dough into circle. With a floured rolling pin, roll the dough out to 3/16″ thickness or as thin as possible with still being able to move dough around.
COOKING / GRILLING BEER DOUGH METHODS
I prefer to use this beer dough for grilling pizzas. This may sound impossible to take pliable dough and grill it, but actually it's quite simple.
After you've rolled out your dough into it's appropriate size place on a floured wood pizza peel board or something similar like a cutting board. Brush the top side liberally with Olive Oil. On a preheated medium-low-heat grill, flip your pizza dough, olive oil side down right onto the grill. If you happen to botch this part gently lift and pull on the dough to straighten back out. Close lid and grill for 3 to 4 minutes and then turn 90 degrees (for great grill marks). Cook for an additional 2 to 3 minutes covered and remove from grill back on to your board with the uncooked side down on your pizza board. From there it's back to the kitchen to top the crust with your favorite toppings and return to grill. Grill on medium low heat turning 50 – 60 degrees (in one direction, not temperature) every two minutes as to not burn the bottom. Depending on what sort of food load you've put on top of your crust cooking times will vary. I find it usually takes about 7 – 9 minutes to melt your cheese thoroughly and get very slight caramelization.
To bake your beer pizza crust: Preheat oven to 450 dF with pizza stone inside. Spread corn meal onto surface of a of a baking sheet or pizza peel. Add shaped dough to peel, top dough with sauce, cheese, toppings etc. Slide pizza from peel to stone in oven and bake for 13 – 17 minutes depending on how you like your crust and the amount of toppings you've added.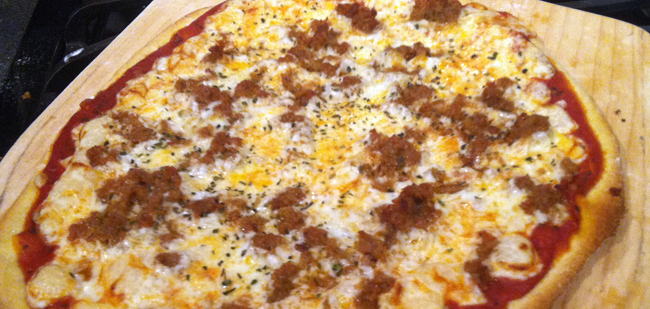 Recipe and photos from www.BeerChow.com