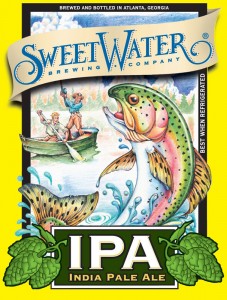 Being an IPA lover, the top pick for me this month is a no-brainer: SweetWater IPA. And it's not my top pick simply because it's an IPA; it's because it's a really, really good IPA. The use of 5 different hop varietals (Columbus, Chinook, Cascade, Simcoe, and US Goldings) along with extensive dry-hopping leads to a complex hop profile that delivers a bit of everything. Citric, piney, herbal, floral, fruity – it's got all of these notes, and they all work in harmony supported by a tasty caramel malt backbone.
SweetWater IPA is also a case study in how less can sometimes be more, at least in terms of bitterness. While I certainly enjoy crushing 70-100+ IBU IPAs and double IPAs, a bit of restraint is sometimes a good thing. While SweetWater's IPA offers firm bitterness at 50 IBUs, it's not a ridiculous level, allowing the lushness of the hop flavors to take center stage.
We all really enjoyed this brew and hope you do too – let us know what you think of it!
Cheers!
Brett