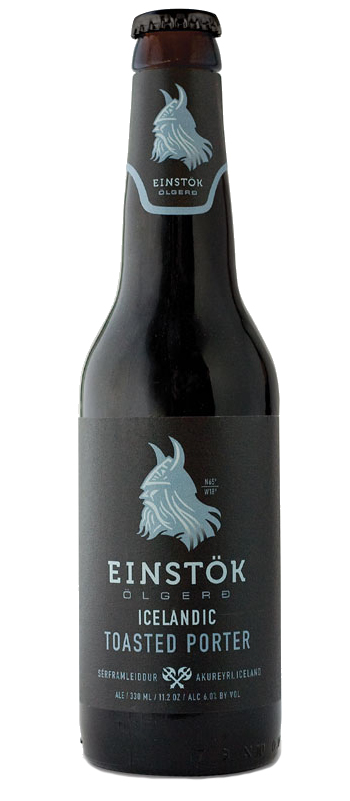 Rich, smooth, and remarkably easy to drink, Einstök's Toasted Porter is a nice discovery from Iceland, and makes my top pick this month from among our 12-oz selections. With the cooler weather that November brings, a porter is often a good choice – but when it's one as well made as Einstök's, it just really hits the spot.
This baby is one of the most densely black porters we've had in a while, and the nose draws you in further with dark roast notes with a bit of an ashy, smoky edge, plus toasted bread crust, toffee, hints of dark chocolate, scorched caramel, and an impression of Eastern spices.
Big chocolaty notes take center stage on the palate, bolstered by deep caramel, molasses, mild toffee, hints of coffee, a wisp of licorice, and slight impressions of dark fruit that pop through with warmth. There's enough creamy roundness and residual sweetness to stand up to and temper the bitter, smoky, roasted malt character, as well as the Bavarian noble hops which lend spiciness. What a well-balanced, satisfying porter!
We hope you enjoy it!
Cheers!
Brett
P.S. – This is actually the first month that we've featured beers from Iceland: Einstök in our 12-oz Int'l and US & Int'l Variety clubs, and Ölvisholt in The Rare Beer Club. Beer was banned in the country until 1989, so it's encouraging to see a developing craft beer industry there – I hope these beers are a sign of more good things to come!