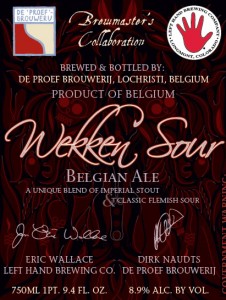 We've been running the Brewer's Collaboration series with one of our favorite importers, Artisanal Imports, for quite a few years now. The premise is that one of Belgium's most prolific brewers, De Proef, teams up with a hot U.S. Craft brewer to collaborate on something that highlights each brewery's strong points to come up with something truly unique, and I'm here to tell you, they've pulled it off every year. One of my favorites over the years was Flanders Fred, a strong ale lambic blended beer that was born from the collaboration with Hair of the Dog Brewing Co. I still have a few bottles of that bad boy tucked away in the back of my beer fridge…just waiting for the right moment.
So this year Left Hand's Eric Wallace is collaborating with De Proef on a blend of their infamous Wake Up Dead Imperial Stout and De Proef's Zoetzuur, a Flemish Red Ale. The brewery's description doesn't quite do it justice, but will give you a hint of what's to come later this month: "It's nearly black with roasted malts contributing complex flavors of licorice and blackstrap molasses balanced by lively herbal hop notes. The heavy foundation of the Wake Up Dead is enlivened by Zoetzuur's tart cherry flavor and acidity from its mixed yeast fermentation."
I'm as excited about Wekken Sour as I was Flanders Fred!
Prost!
Kris