This easy recipe uses rump roast slowly simmered in beef broth, onion soup, and beer, perfect for game day!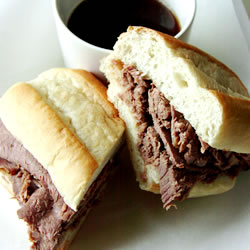 INGREDIENTS:
4 pounds rump roast
1 (10.5 ounce) can beef broth
1 (10.5 ounce) can condensed French
onion soup
1 (12 fluid ounce) can or bottle beer
6 French rolls
2 tablespoons butter
DIRECTIONS:
1. Trim excess fat from the rump roast, and place in a slow cooker. Add the beef broth, onion soup and beer. Cook on Low setting for 7 hours.
2. Preheat oven to 350 degrees F (175 degrees C).
3. Split French rolls, and spread with butter. Bake 10 minutes, or until heated through.
4. Slice the meat on the diagonal, and place on the rolls. Serve the sauce for dipping.
Recipe and photo from www.AllRecipes.com