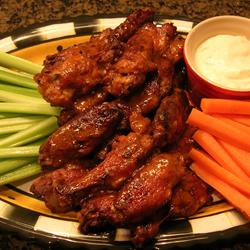 This wing recipe is ideal for this upcoming three day weekend and the start of football season in a couple of weeks! With it's few ingredients, it's quick to grill to keep you and your guests wanting more!
INGREDIENTS:
Wings:
1/2 cup soy sauce
1/2 cup Italian-style salad dressing
3 pounds chicken wings, cut apart at joints, wing tips discarded
Sauce:
1/4 cup butter
1 teaspoon soy sauce
1/4 cup hot pepper sauce (such as Frank 's RedHot®), or to taste
DIRECTIONS:
Combine 1/2 cup soy sauce, Italian dressing, and chicken wings in a large, zip-top bag. Close bag and refrigerate 4 hours to overnight.
Preheat an outdoor grill for medium heat. In a small saucepan, melt the butter. Stir in the 1 teaspoon soy sauce and the hot pepper sauce. Turn off heat and reserve.
Remove the chicken wings from the marinade and pat dry. Cook the wings on the preheated grill, turning occasionally, until the chicken is well browned and no longer pink, 25 to 30 minutes.
Place grilled wings in a large bowl. Pour butter sauce over wings; toss to mix well.
Recipe and photo from www.AllRecipes.com.