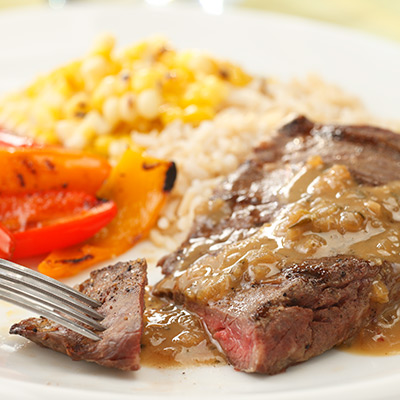 Cooking whiskey removes the boozy taste, but leaves the sweet oaky flavor behind, which lends itself beautifully to tender grilled skirt steak, as we do here, or to grilled pork or chicken. Serve with baked beans and corn on the cob.
Ingredients
1/2 cup(s) reduced-sodium beef broth or chicken broth
3 tablespoon(s) whiskey
3 tablespoon(s) Dijon mustard
2 tablespoon(s) packed light brown sugar
1 large shallot, finely chopped
1 teaspoon(s) Worcestershire sauce
1 teaspoon(s) chopped fresh thyme
1 pound(s) skirt steak (see Note), trimmed and cut into 4 portions
1/2 teaspoon(s) freshly ground pepper
1/4 teaspoon(s) salt
Directions
1. Preheat grill to medium-high. (No grill? See Broiler Variation.)
2. Combine broth, whiskey, mustard, brown sugar, shallot, Worcestershire, and thyme in a small saucepan; bring to a boil over high heat. Reduce heat to maintain a lively simmer and cook, stirring frequently, until reduced to about 1/2 cup, 6 to 10 minutes. Remove from the heat.
3. Sprinkle steaks with pepper and salt. Grill the steak 1 1/2 to 3 minutes per side for medium. Remove from the grill and let rest for 5 minutes. Serve the steak with the sauce.
Tips & Techniques
Note: Depending on your region, skirt steak may not be something your supermarket regularly carries — call ahead to make sure it's available or ask your butcher to order it for you. It's usually sold in about 1-pound cuts up to 18 inches long and 5 inches wide, but just 1/4 inch thick. Before cooking, cut the steak with the grain into several portions to make the long piece more manageable on the grill or in a skillet. Once cooked, be sure to slice it across the grain for maximum tenderness. Hanger steak, flat-iron, and flank steak can all be used as substitutes for skirt steak in most recipes.
Broiler Variation: Position rack in upper third of oven; preheat broiler. Coat a broiler pan or large baking sheet with cooking spray. Broil steak on the prepared pan, turning once, 2 to 4 minutes per side for medium.
Recipe and photo from www.delish.com