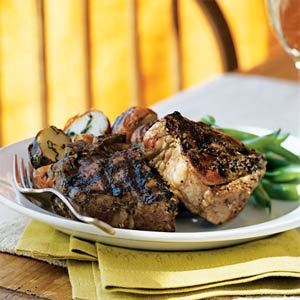 The savory coating of Dijon mustard and dried herbs also tastes great on chicken thighs or beef fillets. Herbes de Provence is a combination of several dried herbs–including lavender, thyme, rosemary, and basil–that evoke flavors from the south of France.
Ingredients:
1 tablespoon dried herbes de Provence
2 tablespoons Dijon mustard
1/2 teaspoon kosher salt
1/4 teaspoon freshly ground black pepper
1 garlic clove, minced
8 (4-ounce) lamb loin chops, trimmed
Cooking spray
Preparation:
1. Prepare grill.
2. Combine first 5 ingredients; rub evenly over both sides of lamb.
3. Place lamb on a grill rack coated with cooking spray; grill 4 minutes on each side or until desired degree of doneness.
Recipe and photo from www.MyRecipes.com