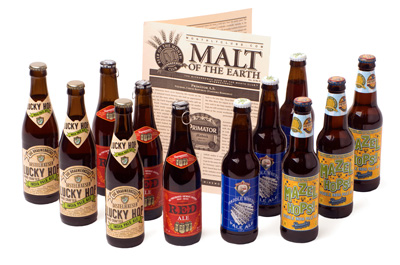 Several weeks ago, I had the pleasure of being interviewed by Ethan Fixell, a writer for Men's Journal. He asked some great questions that really made me sit back and take a good look at how this business has evolved over the years. I'm happy to say that 22 years in, I feel like we're holding true to our original charter of continually curating outstanding, hard to find or exclusive beers to our members while providing A+ BBB rated customer service. The craft brewing industry and ecommerce have evolved significantly over the last two decades and so have we.
We now offer Five different beer clubs, each uniquely suited to specific palates, and the ability to combine any or all of them into a single membership with our Design Your Own Club Program. We've grown to the point where we can now work with breweries to create and deliver exclusive beers to our members such as the 14% ABV Barrel Aged Blended Barley Wine brewed by Broken Bow featured in The Rare Beer Club® this month. It was split into three parts that were aged in rye whiskey, bourbon and red wine barrels before being blended into the final product which is nothing short of kick ass.
Some of our members asked us to send them only hoppy beers and we recently delivered the goods having just launched our new Hop-Heads Beer Club which focuses on hop-centric beers such as IPAs, Double IPAs, Session IPAs, IPLs, Imperial IPLs, Session IPLs, hoppy Pale and Red Ales, and more from two or more breweries each month. Our Rare Beer Club® members can participate in our Personalized Shipment Program which allows them to customize their shipment each month, ensuring they'll only get the beers they want to get.
This month, we're relaunching our website so that it's mobile friendly. No small task, but absolutely necessary for our many customers that prefer to interact with us on their smartphones.
Back to the Men's Journal article comparing online beer services. Ethan's questions were indeed thoughtful and in the end, I feel really good about how we stack up against our competition. We are delivering a superior product in so many ways. Check it out. It's a good read.
Cheers,
Kris