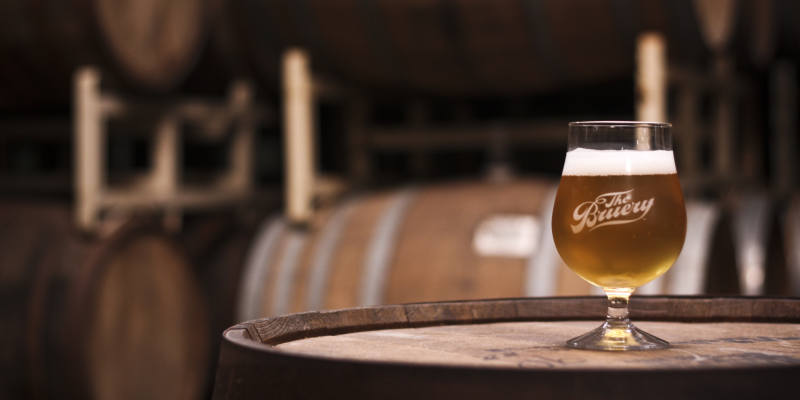 So I sent out two emails to two of my favorite breweries asking each if they'd be interested in working with us to create an exclusive commemorative beer to celebrate our 20 year company anniversary next July.  I'm here to tell you that both The Bruery and Cigar City are on board!  More on Cigar City later.
So Brett and I sat down with Patrick, Tyler and Jonas last friday afternoon in The Bruery's tasting room to kick around some ideas.  Work, work, work.  I know. I know.
We hammered out the broad strokes. It's going to be big, 15%+ and a blend of 2 or 3 barrel aged beers, more than likely one of which will be Bois, a Bourbon Barrel Aged Solera-Blended Old Ale that was crafted to celebrate The Bruery's 5th anniversary. Seemed appropriate.
We kicked around ideas on how we could incorporate our 5 other clubs (wine, cigars, cheese, chocolate and flowers) into the beer. One thought was to have Smokin' Wood be one of the beers blended.  As an imperial smoked porter brewed with beachwood and cherrywood smoked malt, and aged in rye whiskey barrels, we all  felt that might incorporate our cigar club nicely.  We also kicked around the idea of purchasing cacao nibs from one of our featured chocoatiers, Mindo Chocolates, a true "Tree to Bar" chocolate maker whose cocoa beans are single origin organic cocoa beans from Ecuador.
Suffice to say, it's going to be special.  It'll be offered as a Special Offer only to The Rare Beer Club™ and The Bruery Reserve Society members only in roughly a year. We'll be sitting down with the boys to taste different barrel blends in a few months so stay tuned as this one develops.
Prost!
Kris