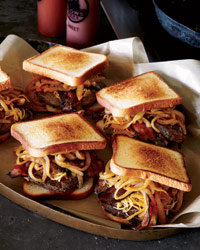 Brian Perrone was reluctant to put a burger on the Slows Bar BQ menu because he wanted to focus on barbecue. At the insistence of his partners, he came up with this patty melt-style burger topped with smoked Gouda, sweet house-made barbecue sauce and hot sauce-spiked onions. He's glad he did: It was an instant hit.
2 tablespoons vegetable oil
One 1-pound onion, halved and thinly sliced
Salt
1/4 cup Frank's RedHot or other hot sauce
1/4 cup beef broth
6 tablespoons unsalted butter, softened
Eight 1/2-inch-thick slices of firm white bread
8 slices of thick-cut bacon
2 pounds ground beef chuck (20 percent fat), formed into 4 patties the same size as the bread slices
3 ounces smoked Gouda, shredded (1 cup)
1/4 cup Sweet Barbecue Sauce (see below for recipe)
In a large skillet, heat the oil. Add the sliced onion and a pinch of salt, cover and cook, stirring a few times, until the onion is crisp-tender and just turning translucent, 5 minutes. Stir in the hot sauce and beef broth and remove from the heat. Season with salt.
Heat a large griddle. Spread the butter on 1 side of each bread slice and griddle buttered side down over moderate heat until toasted, about 2 minutes. Transfer the toasts to a plate. Add the bacon to the griddle and cook over moderate heat until crisp, about 4 minutes per side; drain on paper towels. Wipe off the griddle.
Season the beef patties with salt and cook on the griddle over moderately high heat until medium-rare, about 2 minutes per side. Top each burger with 1/4 cup of smoked Gouda and cook until the cheese melts, 1 minute.
Set the burgers on the unbuttered sides of 4 toasts. Top with the bacon, onion and Sweet Barbecue Sauce. Close the burgers and serve, passing more barbecue sauce at the table.
MAKE AHEAD The onion can be refrigerated overnight and reheated gently before serving.
2 tablespoons vegetable oil
1 large onion, thinly sliced
Salt
2 tablespoons unsalted butter
1 cup ketchup
1/2 cup dark brown sugar
1/2 cup apple juice
3 tablespoons fresh lemon juice
2 tablespoons chopped peeled fresh ginger
2 tablespoons unsulfured molasses
In a large skillet, heat the oil. Add the onion and a pinch of salt. Cover and cook over moderately low heat, stirring occasionally, until richly browned, about 20 minutes. Add the butter and melt. Add the ketchup, brown sugar, apple juice, lemon juice, ginger and molasses. Simmer over low heat, stirring occasionally, until thickened and reduced to 2 cups, about 25 minutes. Transfer the sauce to a blender and puree. Season with salt.
MAKE AHEAD The barbecue sauce can be refrigerated for up to 2 weeks.
SUGGESTED PAIRING
Slows boasts a superb lineup of beers on tap—mostly from Michigan—and this indulgent burger can handle a beer with pretty assertive hops. Try Bell's Third Coast Old Ale or New Holland Brewing's Mad Hatter IPA, both from Slows's home state.
Recipes and photo from www.FoodandWine.com.