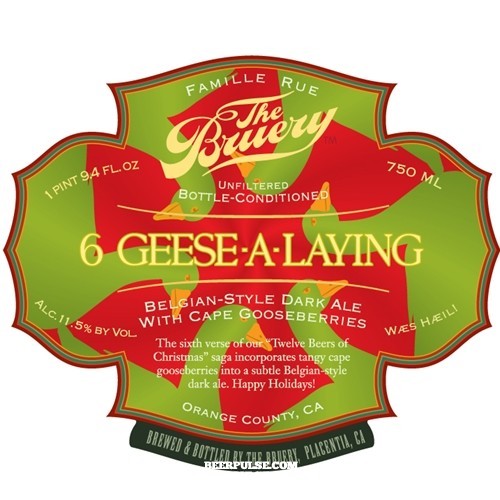 Each year, for the last five years, we've featured The Bruery's current selection from their 12 Days of Christmas holiday vertical series and this year was to be no different…
As a new beer, it needed both Federal recipe and label approval and the ole government shutdown put everything in the queue in limbo, making Six Geese the second awesome beer intended to be featured in The Rare Beer Club™ to fall prey to the furlough. It gets worse.  The Bruery didn't make enough of it for us to feature it in December or January and it's a seasonal beer that's really meant to be enjoyed.
Are you ready for some good news?  The approval finally came through last Thursday and we're bringing in as much as we can get our hands on so that we can send a special offer to our members later today!  That's right babies, there won't be any holes in your holiday stockings this year to let this one slip through the cracks…And no holes in the 12 beer line up for those collecting the entire series in order to host a vertical tasting 2019!  We couldn't let this beer pass you by.
Be sure to contact us at [email protected] or 800-625-8238 if you're a member of The Rare Beer Club™ and don't receive the offer for some reason (Think Spam Filters!)
Prost!
Kris