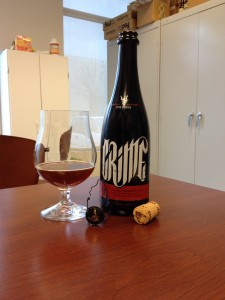 For our Friday afternoon beer tasting this week, we decided to take a walk on the wild side with Stone Brewing Company's Crime. This is the most aggressively hot chili-infused beer any of us have ever experienced. It's polarizing, and we've got quite a bit to say about it.
Crime began as a batch of Lukcy Basartd (yes, that's how it's spelled), which is an excellent blend of Arrogant Bastard, Oaked Arrogant Bastard, and Double Bastard. Aged in bourbon barrels, the beer then received a mammoth dosing of some of the world's hottest chili peppers. Their website lists the following: "red and green jalapeño, Fatali, Caribbean Red Hot, habanero, Ghost, Black Naga, Super, Moruga Scorpion, 7 Pot, Aji Amarillo, Scorpion, Giant White Habanero, 7 Pot Douglah and Douglah peppers."
We're big fans of Stone, and we're actually very fond of chili pepper heat in some beers (generally beers made with chocolaty malts and/or cocoa nibs). But what about this one? Does adding an insane amount of hot peppers to Lukcy Basartd actually work?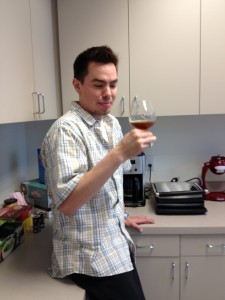 Umm, that depends.
Let's address the heat. It's very high, but not crazy. If you're into hot food, the heat here is manageable. But it is very strong, and it does linger. It's the only beer where you might actually want a chaser of cool water or milk. But since we're macho we didn't use anything like that.
Now for the flavor. It's unlike anything else. There's a sweet, malty undertone, a little fruit, hints of bourbon, some booziness, and a big dose of chili pepper flavor running over the whole thing in a flaming chariot. I don't just mean heat – that's there too of course – but vegetal, peppery flavor from the stunning mix of exotic pain-inducing fruits. Hop bitterness is 102 IBUs, but who can tell? The brain short circuits so fast trying to deal with the heat and the alien flavor combinations that there are no neurons left to evaluate the hop contribution.
Did I like this beer? No – I wanted to, but… no, it's just not working for me. At all. I gotta keep it real. Yet I enjoyed the experience of trying it; in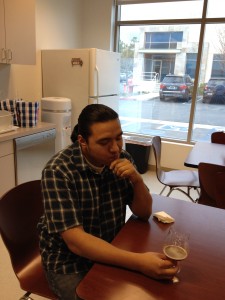 fact, I was amused by it. I'll hold off on judging whether this level of heat is too much for a beer – I think it is, but I can't be sure. I just don't think the flavor combinations work here at all. The large mix of spicy, vegetal pepper flavors is perhaps too complex to be appealing, and just doesn't play well with the underlying bourbon barrel aged mix of "Bastards" that is the beer's core. But I'm just one opinion.
David liked Crime much better than I, although he said he wouldn't want the whole bottle to himself, and I think that hits the key point with this beer: Try it with friends. I think it's worth the experience. It will spur conversation and debate. It's fun. It's intense. It's unique. And you might even like it – it does have a very fresh, fleshy, hot, and complex pepper flavor profile going for it. But it's a pricey beer, so splitting the cost with two or three other people brings the cost of trying it down to earth.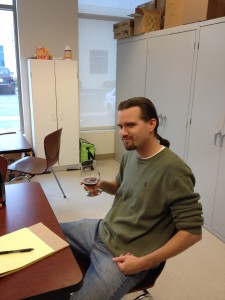 While it got mixed reviews from our staff, we all liked the novelty of it. Is it ahead of its time? A niche product? A crazy gimmick? A crime? You decide. But I will say cheers to Stone for having the guts to produce a beer like this. Just understand what you're getting into if you buy it (the label does warn you!).
Cheers,
Brett