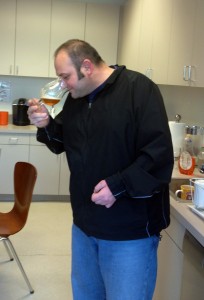 It's Beer O'Clock here at the office again! After the craziness of the holiday season, we're getting back on track with our informal Friday beer tastings, and today we're trying a brewery that's new to us – Valiant.
The beer scene here in Southern California keeps getting better and better. Based in Orange, CA, Valiant has been open for less than a year – and if their Jericho Imperial IPA is any reflection of the rest of their portfolio, they're definitely a brewery to watch.
Luscious floral, citrus and tropical aromas and flavors burst out of this brew including grapefruit, orange, tangerine, pine blossom, pineapple, passion fruit, and more. Hops are quite spicy on the palate, too, and there's a nice mild minerality to the beer.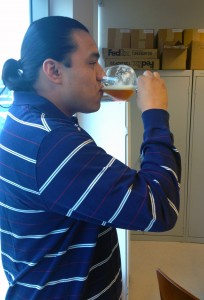 This is one very well balanced imperial IPA, with the pale and lightly caramelized malts adding wonderful balance and roundness to the beer without in any way distracting from the juicy and delicious hop explosion.
We all were really impressed with this one. At 10.8% ABV and 100+ IBUs, Jericho is big and bombastic while somehow managing to remain tremendously graceful and composed. And just straight up delicious.
If you're in Orange County, keep on the lookout for Jericho – this is Valiant's first bottled beer, and it's well worth picking one up if you can find it.
Cheers!
Brett