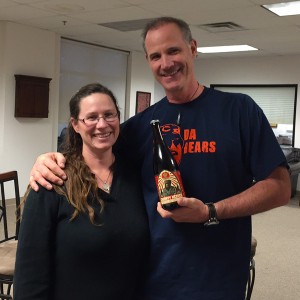 It seems like forever since I first sat down with Brian Schroepfer, one of the owners and Head Brewer at Valiant Brewing, to talk about potentially slotting his big, bad Russian Imperial Stout in The Rare Beer Club®.  Since that time, we've all been eagerly awaiting the batch that he's made just for us, and this week, Brian dropped off the goods.  My team and I wasted no time busting open a couple of bottles after work on Friday and I have to say, it is outstanding!
It's big. It's viscus. It's smoky. It's delicious!  Like the sample we rated back in August, we all found it surprisingly approachable for such a big beer.  Huge mouthfeel.  Big roasted notes, as you'd expect, with smoky chocolate malt flavors intermingled with vanilla and hints of cherries, all of which integrated perfectly.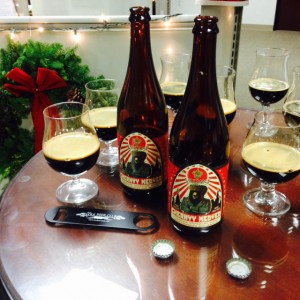 Don't take my word for it; read the Chernyy Medved tasting notes written by Ken Weaver, our newsletter writer and the editor at All About Beer Magazine.  But be warned, it's going to cost you if you do, because you won't be able to resist giving it to the beer geek in your life… or picking up a few bottles for yourself!  This one will be one of our two Rare Beer Club® featured December beers, so be sure to order by 12-20-15.
If you do order a bottle or two, be sure to save some money by using our rare craft beer club coupons on every order.
You're going to thank me. This is a really special beer. You'll want to toss one back now because you won't be able to wait, and lay a couple down, as it will age nicely.
Prost!
Kris