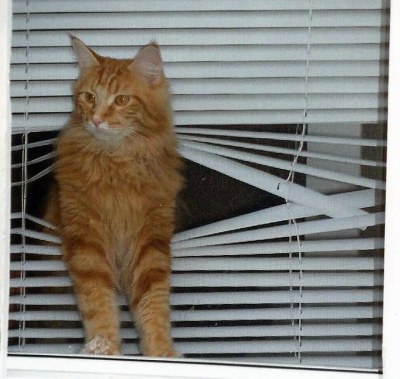 The people have spoken and we do in fact have a winner! There were over 1200 name submissions so it was pretty easy to find three finalists that I really dug and I'm quite pleased with the winner. The beer will be called "Rosie del Barrio" or Rosie from the hood which was submitted by Joshua Robinson. Congratulations Joshua! Well done. It's really quite fitting. Rosie was definitely a neighborhood cat, always wandering into my neighbors open doors and windows, making himself at home. It was not unusual for someone to find him curled up on a couch or chair when they came home from work. He even set off my neighbor's burglar alarm once when they were on vacation. Cops showed up, pistolas drawn, only to see an orange bolt of fur booking for the door when they arrived!
I'm a big fan of Jolly Pumpkin's label art and I can't wait to see the artwork on the label.
If you didn't win this time, we've got two more contests coming right up. In fact we'll be launching the next one in a couple days which will feature another Rare Beer Club® exclusive, this time crafted by Upright Brewing in Portland, OR. That beer will be featured in the club in August. After we name Upright's beer, we're going to need your help with our annual joint project with Pints for Prostates, an organization that promotes the importance of prostate screening though the beer community. This year we'll be working with Elevation brewing and that beer will be featured in the club in September.
Thanks so much for all your help naming Rosie del Barrio everyone!
Prost!
Kris