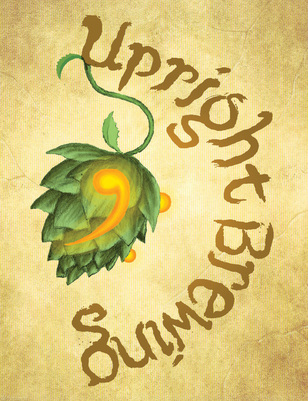 So we just closed out our last beer naming contest with Jolly Pumpkin and we know your brain is tired from the effort that went into coming up with so many killer names, but we need your help again!  We had so much fun allowing our members and the beer community at large to name several of last year's Rare Beer Club® exclusives that we've decided to ramp up our game this year and have no less than three beer naming contests in the queue this year.  And since the beers we're naming will be featured in July, August and September, we're going to be running back to back contests for the next two months.  All in all, you'll have 3 chances to name one of our up and coming beers and win a 6-month, 2-bottle membership to The Rare Beer Club. How cool is that?
This time we're working with Upright Brewing up in Portland, OR.  I'm a big fan of Alex's work.  I want to say they launched in 2009, about 3 years before we featured them for the first time, and I've been rattling his cage ever since to work with us again.  He's a busy cat.  Straight up, one of the biggest challenges we face is planning far out enough to be able to feature the world's best breweries.  Makes sense if you think about it. They make the best beer.  Everyone wants it.  Supply and demand baby. Supply and demand.  Anyway, we finally have liftoff Houston and it's gonna be worth the wait.
Alex makes some of the best saisons in the country so we're thinking it's best to let him run wild with that and have some fun with hops and brett!  Here's what he had to say about the project, "The more I think about it, I keep going back to a hoppy saison for an August feature. We have Five, which is kind of a pale ale crossed with European hopping and a somewhat clean "French-style" fermentation, but I'm thinking something way different, more like a Belgian IPA with some brettanomyces added at bottling, so it will start clean but get slightly earthy and a bit more tart over time."
You know the drill by now, but just the same, here are the vital bits that you need to know about the contest:
You can submit up to three names by 2 pm PDT on Thursday, April 14th. Three finalists will be announced on Friday, April 15th at which time contest entrants, club members and the general public will be allowed to vote for their favorite choices. Contest winners will be announced on Friday, April 22nd. If your beer name is used, we'll hook you up with a 6-month, 2-bottle membership to The Rare Beer Club.
To receive this RBC exclusive beer, you'll need to be an active member of The Rare Beer Club in August of 2016 when it will be featured.
Alex's only request on the name is to keep it short so that it works with his current label design…Like real short, preferably 10 characters or less so you're gonna have to really get creative this time.  Have fun!
Prost!
Kris