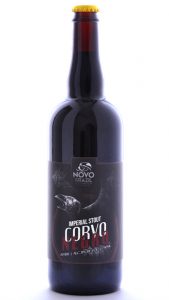 A few+ years back, I had the opportunity to sample a wide range of different Brazilian beers down in Curitiba, in the Paraná state of southern Brazil. I'd been flown down as, essentially, an ambassador of RateBeer, which was (at the time) one of the main congealing elements of online beer culture in that region of the world. I've never met such passionate homebrewers. And, being there to witness that nascent craft beer scene—operating, like many international beer scenes of late, on an accelerated timescale courtesy of lessons learned in the U.S.—well, it felt a little bit like getting a glimpse back in time to an earlier part of our own beer culture.
You could taste potential. You could tell where things were headed.
And one of the main highlights of that trip had been Wäls. Pitch-perfect renditions of tripel, quadrupel and bière brut, in a beer culture more generally inclined to German styles. Various batches of their Petroleum, a chewy imperial stout, were equally on point. Despite Wäls' sale to AmBev last year and (more especially) Brazil's current economic crisis, it's encouraging to hear from Brazilian peeps still planning to open breweries once their economy's upright, and also to see vestiges of that core spirit of Wäls appearing in places like southern California.