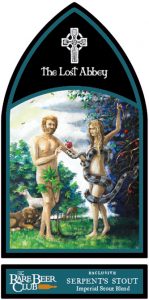 The barrel-aged, blended version of The Lost Abbey's Serpent's Stout featured this month is the latest blended beer to be included in The Rare Beer Club, though it's of course nowhere near the first. Diving deep into the RBC archives—there's over a decade's worth of previous beer inclusions at www.beermonthclub.com/past-selections.htm—yielded a surprising breadth of blended features, even one from the very first year in the online archives. In November 2004, Rare Beer Club and Michael Jackson welcomed the debut of Dogfish Head's Burton Baton.
In an interview with Jackson (who'd been with the club from early on), Dogfish Head's Sam Calagione explained that this particular beer—a brand-new release created for The Rare Beer Club—was meant to represent the shared historical brewing landscape between himself and Jackson, specifically those vividly hopped IPAs of England's Burton-on-Trent, formative to them both. Burton Baton started as a slightly larger version of the brewery's 90 Minute IPA, with hops continually added throughout the entire boil. It was then dry-hopped and aged on French oak staves for four to five months, before lastly being blended with fresh 90 Minute.
Much more recently, the club's featured blended beers such as Broken Bow's Blended Barrel Aged Barley Wine (highlighting a combo of bourbon, rye and red wine barrels), De Proef + Left Hand's Wekken Sour (a blend of the former's Flemish sour and the latter's impy stout), and Monkish's Rara Avis (a blend of Brett saisons: one rye, one spelt). Also: Grand Teton's Vintage 2014 (blended and aged in rum barrels). One could go on. Any blended beers made a big impact? Any you've truly dug? Hit us up on Twitter: @rarebeerclub and @kenweaver.