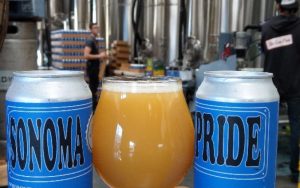 In recent months I've been checking in on how breweries here in Sonoma County have been handling COVID-19 complications, including California's statewide closure of indoor dining on July 13th. With that pitch-perfect 2020 timing: we now have wildfire season upon us. Here in Petaluma (20-ish minutes south of Sonoma County's biggest city, Santa Rosa) we've only seen ash and smoke thus far, but there are 500+ fires and 750,000+ acres burned statewide. Hazy skies. Scary-ass sunsets. Regularly checking our local air-quality numbers. Got our bug-out bags repacked. My wife just sent me over a Google spreadsheet of our "What would we grab in 20 minutes?" list. The house is prepped, in case friends need to evacuate here again.
For our local breweries, which had been finding COVID-19 workarounds like outdoor beer gardens, it means one more step backwards. All of the Santa Rosa breweries I mentioned last month—Russian River, Moonlight, and Cooperage—have had to temporarily suspend their outdoor operations due to air-quality issues, all switching to take-out only for the moment. Here's hoping air-quality levels improve soon and fire season won't be as bad as it looks.
That said… this is familiar turf. We've endured wildfires, and everything 2020's thrown so far. We had N95 masks way before COVID. We'll get through this too. Here's hoping you are holding up ok through everything. Support the small businesses you want to stay open. Stay strong. I'm gonna go crack an apocalypse beer and fall asleep on our bug-out bag.