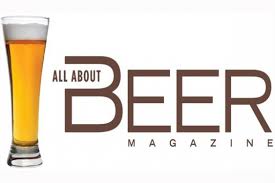 All About Beer Magazine had been one of the leading beer publications in the country for 39-ish years. While I wouldn't be surprised if the brand re-emerged in a different form, you can read more about what's been going down over at Jeff Alworth's Beervana blog—"After 39 Years, All About Beer Magazine is Dead"—or via the Forbes article "RIP All About Beer."
It's been a weird couple years.
I was one of the last folks to depart the All About Beer editorial team, though I kept doing my Trending column over there through the magazine's final printed issues. That editorial team, led by John Holl and then Daniel Hartis up until the end, was the most supportive group of beer writers and editors I could've asked for. Managing editor Jon Page and our designer Jeff Quinn helped steer the mag to what I'm inclined to believe were some of its brightest years. And Hartis and I had some awesome theme issues planned that never saw the light of day.
For those of you who read the mag—thank you for supporting independent beer journalism. If you're looking for something else to read, Holl's an editor at Craft Beer & Brewing Magazine these days. I've got my first piece for the revamped BeerAdvocate Magazine in their latest issue. Support those publications that serve you well. They're not going to be around forever.