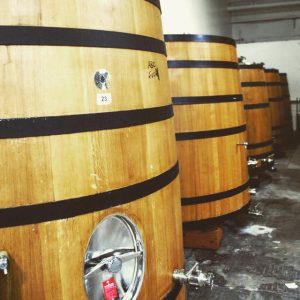 I recently got to check out Almanac Beer Co.'s new facility in Alameda, California, which I was checking out on assigment for ABV Magazine. The brand-new Barrel House, Brewery and Taproom (the building itself dates back to World War II…) marks a major shift for the folks at Almanac, who up until now relied on contract or partner brewing to get their beers out into the world. Check out the full coverage and photos in ABV, but suffice to say that Almanac has committed to the sour game. Asking co-founder Jesse Friedman what he was most excited about with the new spot, he replied, "I'm excited to get these foeders filled."
Foeders, the big barrels often used for aging sour beers, aren't a thing you, like, impulse buy. Wood & Beer: A Brewer's Guide by Dick Cantwell and Peter Bouckaert is the best resource I've seen for foeder specifics, and the two authors put the general size for these barrels about 600 liters or more (with significant wiggle room, but this is around the size where the production methods change and the barrels go from assembly-line to custom). The smallest foeder sold currently by Foeder Crafters of America is just a little bit larger than that, at seven barrels, or 14 kegs' worth. For a sense of the size of some of the larger foeders, though, there's a useful anecdote in Wood & Beer about a broken ladder and a temporarily lost employee named Filip.
Have you gotten to check out any other recent foeder-aged beers? Rodenbach, New Glarus, New Belgium, Side Project, Bruery Terreux and numerous others have been making foeders part of their sour-beer operations, and, at the very least, you're unlikely to find many foeder-aged beers that breweries are doing just for a hoot. (I tend to read it as 'probably not a kettle sour'.) Any foeder beers hitting the spot? Join the conversation on Twitter @rarebeerclub.