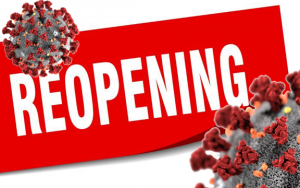 Out here in Sonoma County, we're finally heading out of the 'Purple Tier' phase of COVID times. The Purple Tier is basically the worst tier of California's four-tier, color-coded system in their Blueprint for a Safer Economy, and we've never known any other tier. Watching the local case numbers drop steadily over the past few months, as folks get vaccinated and peaks from over the holidays wane, it's been pretty fantastic to see our daily new cases dip down to double digits. As of March 14th, we headed down into the Red Tier for the very first time.
This isn't a huge shift for all businesses. Breweries and distilleries no longer are required (for whatever reason this existed in the first place…) to have people order food before ordering a beer, though they're still only open for outdoor service. There's also reservations involved, as well as a 90-minute time limit for guests, but it's at least a little bit of progress. Bars still have to remain closed, but restaurants are now able to open up for indoor service at 25% capacity. Local COVID levels are still 'Substantial' in the Red Tier—but, finally, things are improving.
Personally I can't friggin wait to get a vaccine and take advantage of indoor dining again, and I'm so looking forward to eventually getting to sit inside a pub and catch up with people I've not seen in forever. How are things looking in your neck of the woods? Have breweries had any of their restrictions lifted? Are you seeing positive changes where you're at? Chime in on Twitter via @RareBeerClub. Hope things are finally clearing up wherever you're at.