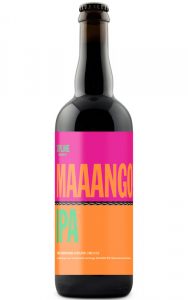 If a fruit exists, there's a solid chance it's been made into a beer by this point. But mango is one of those periphery fruits that, while used nowhere near as frequently as classic additions like, say, cherries and raspberries, still tends to feature consistently well in beers like tropical IPA. Hop varieties like Citra, Galaxy, Mosaic and Azacca can give mango notes to beer sans the addition of actual fruit, while providing easy anchor points when using actual mango.
There's definitely more than one way to mango. Hundreds of mango varieties and cultivars exist, turning yellow to oxblood in color when ripe, and they're cultivated all over the world (with around half of the world's production coming from India). When my wife and I were teaching school down in Nicaragua for a few months, there were these massive mango trees outside the schoolhouse, and the kids knocked the fruit down with long sticks and ate every single one green. (YMMV when it comes to trying this out with varieties found stateside…)
For folks looking for more mango-y options, there are a bunch about. In additional to your local brewer's seasonal options, Omnipollo's Bianca Mango Lassi Gose has seen some solid distribution stateside, melding mango puree to a gose framework.
For a fruited IPA of more biblical proportions, keep an eye out for To Øl's Garden of Eden, an IPA with additions of apricot, guava, mango, papaya, and passionfruit. It might even prevent scurvy.
Got a mango or fruit beer you've been digging? Let us know what's tasting good on Twitter via @RareBeerClub.