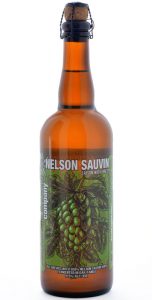 Anchorage Brewing Co.'s Nelson Sauvin, one of the two Rare Beer Club featured beers this month, is brewed with 100% Nelson Sauvin hops—a particularly forward variety originating from New Zealand's Plant & Food Research back in 2000. The variety comes from the New Zealand "Smooth Cone" hop, itself an offspring of old-school California Cluster.
Characteristics of Nelson Sauvin hops emphasize a focus on "fresh crushed gooseberries" (a common descriptor for New Zealand's Sauvignon Blanc). The hops also can include tropical character along the lines of lychee, passion fruit, lime, mango… Nelson Sauvin was one of the major early impact hops, and it can bring exceptional potency and zest into a beer.
If you're digging the Anchorage Nelson Sauvin, where its pungent qualities are set alongside the impact of Brettanomyces, there are at least a couple other examples highlighting these hops (with greater availability). Alpine Beer Co.'s Nelson IPA is one of the key options with larger distribution, while 8Wired's HopWired IPA is packed with Nelson Sauvin alongside various other New Zealand varieties. Mikkeller's also featured a variety of Nelson-Sauvin-y releases.
Have a local New Zealand-hop beer you've been digging? Something like Motueka more your thing? Let us know what's been hitting the spot on Twitter at @RareBeerClub.