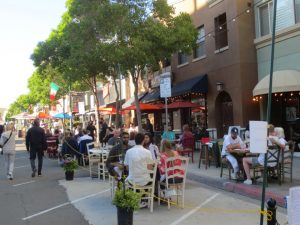 Last month, I mentioned how the beer scene was looking out here in Sonoma County, with the particularly troubling sidebar that we could be losing 40+% of the restaurants in Santa Rosa as a result of the pandemic. Santa Rosa's the biggest city in Sonoma County—home to breweries like Russian River, Moonlight, Cooperage, and HenHouse, among others. With a recent uptick in COVID-19 cases across the state, California closed indoor dining statewide as of July 13th. The new restrictions, while addressing the fact that indoor transmission is way more problematic, impose a pretty curious handicap on places like breweries, brewpubs, and distilleries—all of which can serve beer outdoors, but only in the same transaction as a meal.
Wineries and tasting rooms, in a move that pokes the most cynical buttons in my brain, have no such restriction. <dramatic villain music>
I'll focus on how our local folks have been responding. Lagunitas here in Petaluma already had most of its seating outdoors, and is open for curbside pickup and outdoor dining, with the restriction of one household per seating area. Moonlight, Cooperage, and Russian River (the latter getting a boost from Santa Rosa's decision to shut down 4th Street in downtown for businesses to operate outdoors) have all been creating makeshift beer gardens, satisfying the meal requirements through either an existing kitchen (RR) or rotating food trucks. And the two HenHouse locations, with smaller outdoor spaces, have been curbside pickup only.
Hope you're holding up ok through this. How are breweries adjusting to things in your area? Have things reopened, or re-reopened? Get in touch on Twitter via @RareBeerClub.