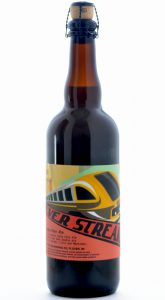 This will be the second of the Rare Beer Club's anniversary beers to receive its name from a classic comedy, and it seemed like an ideal opportunity to pop an early bottle of Silver Streak for tasting notes and check out the movie itself. Silver Streak (1976) is partly buddy comedy between Gene Wilder and Richard Pryor, and partly soft-thriller where everyone's trying to kill Gene Wilder's character—who proves that there is no limit to the number of times you can fall off a train. There are definitely parts of the movie that haven't aged well, though it's the first of four movies Pryor and Wilder did together, and is probably best in tandem with Stir Crazy (1980). Wilder's character is next-level vanilla; Pryor brings most of the energy.
Not many beer parallels (there's buckets of Champagne), although I couldn't help but notice the love interest of Gene Wilder's character, played by Jill Clayburgh, introduces herself by noting her character's name is short for Hildegard. Saint Hildegard of Bingen is seriously one of the coolest people in history—and is generally credited for first recording the preservative qualities of hops!—along with establishing herself as an accomplished herbalist, a composer, scientist, writer, visionary, inventor of alphabets, church reformer, and lots of other things.
Best beer parallel I've got. The train scene at the end might be worth the price of admission. Got a classic comedy to recommend as a namesake for a future Rare Beer Club anniversary beer? Hit us up with your favorites on Twitter via @RareBeerClub.