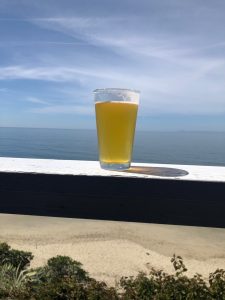 The Rare Beer Club's got two potent but summer-minded beers featured this month: an imperial witbier and an imperial pilsner. And it got me to thinking about summer beers in general. As Sonoma County's opened up, we've been venturing out a bit more, including some trips out to Moonlight and Russian River. And the warmer months have been calling for some lighter beers (although a little Double Dry-Hopped Pliny the Elder in metal cups in Russian River's Windsor beer garden wasn't too bad either). Our regular summertime go-tos include Reality Czeck from Moonlight and Trumer Pils, both firmly hopped lagers brewed in NorCal. We'd also visited a beer garden in Sebastopol recently that thankfully had Brasserie De La Senne's refreshingly bitter Taras Boulba on tap—which we find way less often on the West Coast.
Bell's Oberon. Dry, citrusy lambic and oysters. Fresh canned pale ale on the beach. As of late: we've also been picking up more non-alcoholic options, like Lagunitas' IPNA.
At least, that's what I've been craving while the weather's hot. Kegerator currently includes a nicely crisp 5.8%-ABV pale ale with Amarillo, Citra and Mosaic hops from our local folks at Cooperage Brewing Co. What have you been digging this summer? What's the one summer-minded beer you wish you could get right now? Hit us up on Twitter via @RareBeerClub.