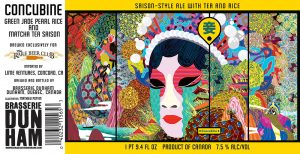 One of Rare Beer Club's two featured beers this month is Brasserie Dunham's Concubine, a saison brewed with rice, Lemondrop hops, and matcha tea. For folks who've been with the club for a bit now, you might remember its predecessor, Pale Duck: Dunham's dry-hopped and tea-infused saison that appeared in the club a few years back. (Pale Duck was itself based on one of Dunham's early core offerings: Leo's Early Breakfast IPA, which used guava and Earl Grey tea.) Digging through the RBC archives, some long-time members may also recall Jolly Pumpkin's Bière de Goord and Fantôme's Magic Ghost (both featuring green tea).
As for readily available tea beers… Your best bet might just be stumbling upon one at your local brewery. A whole bunch of folks have been dabbling with tea additions in recent years. Dogfish Head's Sah'tea, made with foraged juniper berries and black tea, was one of the big tea-beer releases early on, but it's more a memory at this point. Bottle Logic's more recent Teacursion Tropical Tea IPA was based on its delicious Recursion IPA, with black tea. And Guinness' Open Gate Brewery and Barrel House in Maryland recently released cans of Breakfast Tea Amber (made with Irish breakfast tea) for St. Patrick's Day. Still, wee releases.
Try any tea beers besides this month's feature? Got a local brewery experiment with some sort of tea addition? Let us know what's good on Twitter via @RareBeerClub.