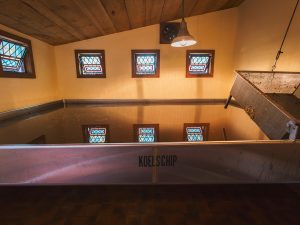 Libertine Brewing Co.'s Aubree is one of an increasing number of beers being spontaneously fermented through the use of a coolship—a wide and shallow stainless-steel vessel, typically, that allows brewers to expose in-progress beer to the ambient air. This process, once limited to the traditional methods of Belgian lambic, is pretty much the opposite of how one usually brews today: pitching a single homogenous vial (or vat, bucket, etc.) of yeast from one of the main yeast labs, and using a monoculture with near-uniform genetics to reliably ferment said beer. If you're looking for a challenge, though, fermenting with local yeasts can provide one.
Michael Tonsmeire's American Sour Beers has a particularly helpful section on using coolships. "The isolated strains of brewer's yeast that we pitch into our ales and lagers," he said, "have characteristics that took untold generations for brewers to select for, important properties like alcohol tolerance, flocculation, and desirable flavor profile. Finding a wild yeast strain with all of these same attributes is as likely as dropping a net onto a prehistoric field [!] and having the first animal you catch be as easy to raise and delicious to eat as a modern cow."
The next time you're sipping on a spontaneously fermented beer, whether from Libertine or Allagash or Russian River or Jolly Pumpkin, or myriad other international brewers aiming to coax cow-equivalents from the local air, keep in mind the unseen effort that went into them. The dumped batches. The ones that end up too lactic or too acetic, or worse. The months or years of fingers crossed… Digging any new coolship beers lately? Hit us up @RareBeerClub.