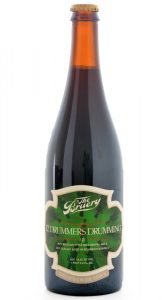 The Rare Beer Club has long been a supporter of The Bruery's 12 Days of Christmas series, offering each release to RBC members dating as far back as 2009 with Two Turtle Doves, a Belgian-style dark ale brewed with cocoa nibs and toasted pecans. I've been working as the club's newsletter writer for the latter half of the run—from 7 Swans-A-Swimming in 2014 to the present—and each release has combined the concept of Belgian brewers doing stronger, occasionally spiced dark beers for the holiday season with the annually rotating prompt from that 12 Days of Christmas song. 2 Turtle Doves riffed on 'turtle' candy. 3 French Hens used French oak barrels. 5 Golden Rings went a bit out-there—11.5% golden ale, with spices and pineapple. 8 Maids-a-Milking was an imperial milk stout… but fermented with Belgian yeast.
This year's release of 12 Drummers Drumming marks the final release of the series, after 11 years of annual Belgian-style holiday beers, starting with Partridge in a Pear Tree. It's worth taking just a moment to consider the series in context: it's one of the first major (let's call it) higher-concept series of annual one-off releases riffing on a core theme I can recall in craft beer, following in the SoCal footsteps of stuff like Stone's Vertical Epic Series (02.02.02 to 12.12.12). Both are impressively ambitious projects, each taking over a decade to complete, and it's especially neat that The Bruery's started theirs in 2008—the same year they opened.
So, what other large-scale brewery release series am I totally overlooking? (The Lost Abbey's Ultimate Boxed Set from 2012 comes to mind, though those 12 one-off beers were released monthly…) Also: have you been cellaring any of the 12 Days of Christmas series to pop with this year's final release? Let us know on Twitter via @RareBeerClub.