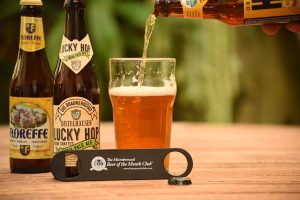 The pandemic has more and more of us seeking out reputable services and online shops that can safely deliver craft beer. And who can blame them? I've been working out of the house for over 2 months now trying to drown out what feels like a daily assault of leaf blowers, garbage trucks, and weed whackers. Hell, there's a dog barking, my children kicking up a ruckus, and a chainsaw buzzing at the very moment that I'm typing up this post. When it's time to logoff and leave the coalface behind for the day, I'm more ready for a beer than I've ever been each day. Fortunately for me, I've got a pretty sweet beer fridge in my garage, well stocked with recent and past selections from our clubs. Yeah, I'm gonna shoot straight with you. It's good to have a warehouse full of really good craft beer at your disposal when you need it… And even when you don't.
Anyway, back to your needs, specifically your beer fridge. Shipping hard-to-find, professionally curated craft beers is exactly what we've been doing for just over 25 years now, both through our 5 distinctive beer club memberships and by allowing club members the ability to re-order their favorites at discounted prices.
So here's what's changed on our end. In these challenging times, we've made the decision to open up our beer store to everyone, not just active members.
Read more about our craft beer delivery options.
Stay Safe, But Don't Stay Thirsty my friends,
Kris