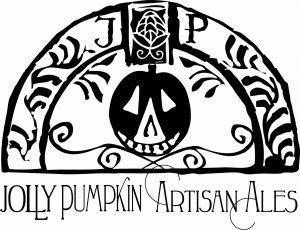 So you didn't win the grand prize in our recent beer naming contest with Yazoo and are weeping tears of sorrow into your freshly poured glass of Space Ace Oddity. Am I right? A bit of a tangent first. Did you dig that beer as much as I did? A fellow craft beer lover and vendor we work with sent me a bottle a year or so ago when it was first introduced to a very limited Michigan market and I was genuinely floored which doesn't happen much these days. Really, really love that beer and hope you did too.
So on with the good news. You've got one more chance this year to win a 6 month, 2-bottle membership to The Rare Beer Club by naming our next exclusive beer, brewed by none other than craft beer legend Ron Jeffries at Jolly Pumpkin!
Ron wasn't sure he could work us into his production schedule this year when I first pinged him in the new year, but then he reached out a couple months back and asked if I was still interested because he was kicking around a Blackberry Pumpkin Saison recipe that would work nicely in October. It took all of a nanosecond for me to concur that this was indeed a primo idea.
We've done 6 exclusives with Jolly Pumpkin over the last 23 years and in all honesty…No seriously, I really mean it…They all kicked ass. You will not be disappointed and it will indeed be an honor to have been the one to name it so put down your device, bust out a yellow pad and start noodling on some ideas.
Wait. Don't power down just yet. Are you still there? There's some stuff you gotta know first.
The beer is a 7.0% Spelt Saison that's been aged for 7 months in oak foeders which will contribute spice, and sour fruit notes developed through barrel aging and naturally occurring Brettanomyces yeast and Lactobacillus bacteria. Perle, Vanguard and Southern Cross hops were used along with pilsner malts and spelt to make the beer. A pumpkin and blackberry puree was added to the oak foeders 3 months into their resting period.
Here's another secret squirrel tip. The last 5 JP beers featured were named Ursae Majoris, Los Vivos y Los Muertos, Rosie Del Barrio, Lupulo de Hielo, and Biere de Goord so you could say there seems to be a bias toward foreign language based names. Don't let me stifle your creativity baby. Run with what feels good. I'm just sayin'…
Here's what you need to know to play, good people of Gotham.
Entering the Beer Naming Contest
Although the new beer will only be available to members of The Rare Beer Club, both members and non-members are invited to enter the contest and submit up to three names for the new beer. The contest officially begins on Monday, June 26th, 2017. Entrants will have until 2 pm PDT on Monday, July 17th, to submit up to three names. That gives you a week to think about each name! You can do this!
Finalists will be chosen by The Rare Beer Club and Jolly Pumpkin on July 20th, at which time contestants, club members, and the general public can vote for their favorite name. The winning entry will be announced on Wednesday, July 26th and the contest winner will receive a 6-month, 2-bottle membership to The Rare Beer Club.
To receive this special beer, and many more, join the Rare Beer Club online or call 800-625-8238. Be sure to start your membership by October 2017, or earlier, to receive this exclusive beer from Jolly Pumpkin.
Have fun!
Prost!
Kris