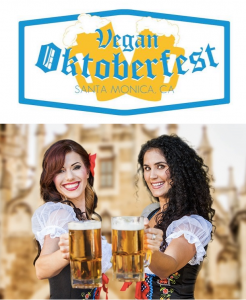 Could a meatless Oktoberfest carry enough intrigue to be a successful event?
When one thinks of Oktoberfest, easy drinking German beer in tall steins and an endless bevy of Bavarian-style meat products comes to mind.  Frankfurters, Bratwursts, Blood Sausage, Schnitzel, and the list goes on!  So if I said Vegan Oktoberfest, you would probably think that sounds a bit odd, right?  Well the folks over in Santa Monica, CA don't think it's odd and they are throwing the world's 1st Vegan Oktoberfest.  Almost all their beers will be vegan by default, so the real noticeable difference will be with the food.  Still focusing on German favorites like pretzels, potato pancakes, & sauerkraut, an array of food trucks will be present preparing themed menus to be paired with beers from over 20 local breweries.  And just like any successful Oktoberfest, you will still get the opportunity to enjoy live polka bands, stein-lifting contests, and beer maidens walking through the oceanfront festival grounds in authentic Bavarian garb.
To learn more about this unique festival, visit www.veganoktoberfest.com.
Cheers!
Shelton