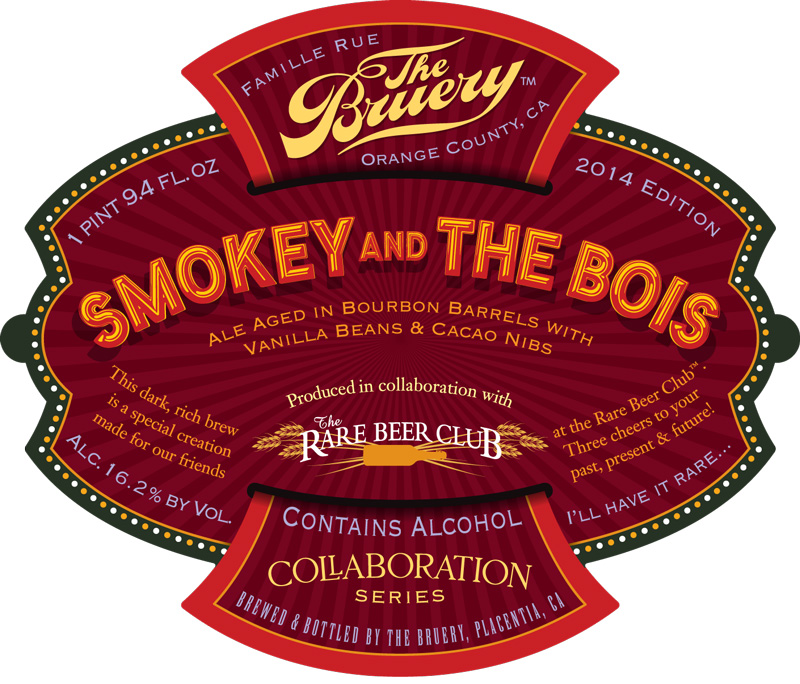 Today we're excited to announce a special offer on a beer very close to our hearts. This month marks our company's 20th Anniversary, and to celebrate we teamed up with The Bruery in Placentia, CA to develop a beer worthy of such a momentous occasion. The result is a unique blended beer, Smokey and the Bois, available only to our club members and The Bruery's Reserve and Hoarders Societies.
We worked personally with The Bruery to develop this beer, sampling a large number of blends at their barrel warehouse before we all reached a unanimous and very enthusiastic decision on the final blend.
Smokey and the Bois is crafted from three different Bruery beers: Black Tuesday (The Bruery's famous ~20% ABV imperial stout), Bois (an exceptional, bourbon-barrel-aged old ale), and Smoking Wood (an imperial rye porter brewed with beech- and cherrywood smoked malts). And, for even more dimension and complexity, Smokey and the Bois has been aged with vanilla beans and Ecuadorian Nacional cacao nibs.
We have fewer than 100 cases available, and once it's gone it's gone. This bad boy is very big, and capable of many years of aging, so stock your cellar now.
Click the "Learn More" button for full tasting notes, and to access the order form.
Flexible ordering allows you to order 2, 4, 6, 8, or 12 total bottles. Orders ship after our July 15th cut off date.
Order online or at 800-625-8238 Mon-Fri 7 am – 5 pm Pacific. If your club membership was a gift, you will be contacted by one of our team members for payment information if you submit your order online.
To take advantage of this special offer, please respond by 12:00 PM PST on Tuesday, July 15th.
Cheers!