February 2017 Rare Beer Club Special Offer

Today we're excited to announce the first Rare Beer Club® Special Offer of 2017! Crazy Mountain Brewing Company's "Local's Stash Reserve Series Black Barleywine" was a big hit with our members recently, and our friends at this exceptional Colorado brewery have been gracious enough to offer us limited quantities of four additional "Local's Stash Reserve Series" beers.
Cheers!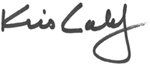 Kris Calef
President
---
For the PDF version of the Special Offer Newsletter, Click Here. The order form follows the beer descriptions below. To jump to the order form now, Click Here.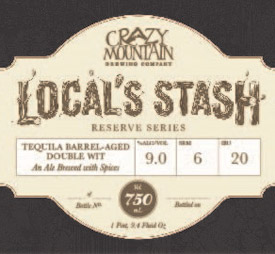 Local's Stash Reserve Series: Tequila Barrel-Aged Double Wit

Crazy Mountain Brewing Company – Edwards & Denver, Colorado
Style: Double Witbier w/ Spices aged in Tequila Barrels
ABV: 9%
Serving Temp: 50-57° F
Suggested Glassware: Tulip, Chalice, or Chardonnay Glass
We recently featured Crazy Mountain's hefty Local's Stash Reserve Series: Black Barleywine, a potent example that was very well received by our Rare Beer Club members, and we've got four delicious, limited-release beers from Crazy Mountain available in this special offer. That black barleywine was what initially caught our attention-but each of the beers in the Local's Stash Reserve Series have proven to be expectional, and we're excited to feature four of our favorites. First up: Crazy Mountain's reserve tequila barrel-aged double witbier with spices!
Even if you're not into tequila, there's a whole lot to dig about this beer. That tequila barrel influence feels bright and cactus-y. There's just a touch of barrel warmth that lends itself well to a 9% ABV double wit. This pours bright golden-orange and saison-like in the glass, giving off a nice glow while white, fine-bubbled foam caps the pour. This offers up great, lasting lacing and bright, lemony aromatics fresh out of the gate. It's mouthwatering from the start.
The tequila barrel really makes a great influence on this beer. This goes well beyond one's standard expectations for witbiers, with the spices making a noticeable but relaxed impact overall and the net effect being very citrusy, very tart-grapefruit and lemony acidic in a way that's mouthwatering and very fresh in this beer. Tiny bubbles in the carbonation add loads of lift in the mouthfeel, and this ultimately feels much more like a sour ale than a witbier.
Pairing & Aging Notes:
This is especially fit for earlier courses, with lots of citrusy acidity for salads and seafood. As there's toasty barrel character beneath the citrus and subtle spice, it suggests a perfect pairing for baked flaky white fish. A potent ABV indicates this could have some lasting ability in the cellar. We're digging it fresh, but it's precisely brewed (and 9% ABV), so six months or so shouldn't send it too far off course. We'd pop most bottles fresh.
---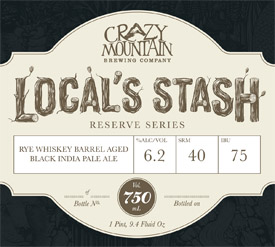 Local's Stash Reserve Series: Rye Whiskey Barrel Aged Black India Pale Ale

Crazy Mountain Brewing Company – Edwards & Denver, Colorado
Style: Black IPA aged in Rye Whiskey Barrels
ABV: 6.2%
Serving Temp: 45-53° F
Suggested Glassware: Nonic, Tulip or Pinot Glass
The concept of aging a black IPA in a rye whiskey barrel suggested a certain profile from the outset. We expected the base beer to be more reliant on its darker malts, providing chocolate and roast, and for the whiskey barrel to bring in some serious char and heat. Combining that with subdued hops from the barrel-aging time, we expected this closer to a BA impy stout.
This beer is nothing like the above.
It's much brighter, refreshing and more interesting. This Local's Stash release leads with lots of red-fruit and tangerine notes in the aromatics: fruity, fresh, with surrounding notes of rye and cola. We could tell from the aroma alone this was heading in a different direction, with a core focus on its hops and soft barrel influence. This pours a dense, dark cola color, in fact, a deep liquid chocolate capped by light-tan foam. Like their Gin Barrel Aged Juniper India Pale Ale, the carbonation's restrained, allowing both these complex IPAs to fully play out.
Vibrant notes of fresh pear, apple and grapefruit lead a firmly bitter hop profile, with the smoothest elements of the rye contributing the elements landing with the most impact: hints of chewy caramel and toasty vanilla from the oak. Again, this feels so much more nimble and bolder than expected, with the big plush fruit notes landing first, tempered by subtle tannins and ideal levels of bitterness for this sort of fruit-forward IPA. The rye whiskey barrel shows as a welcome secondary focus, and this opens up into hints of charred pineapple as it warms.
Pairing & Aging Notes:
Given the hop focus here, we'd encourage our Rare Beer Club members to enjoy bottles of this early on, though time will definitely be a bit more forgiving than to typical IPAs. A mix of red-fruit, brown-sugar and caramel elements suggest ideal pairings with pork tenderloin.
---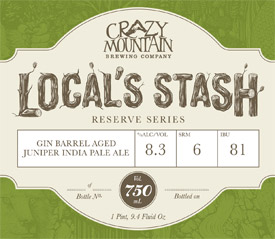 Local's Stash Reserve Series: Gin Barrel Aged Juniper India Pale Ale

Crazy Mountain Brewing Company – Edwards & Denver, Colorado
Style: IPA w/ Juniper aged in Gin Barrels
ABV: 8.3%
Serving Temp: 48-55° F
Suggested Glassware: Small Nonic, Tulip, Snifter, or Pinot Glass
We've been loving the few gin-barrel influenced beers we've been crossing paths with, such as Gigantic Brewing Co.'s Pipewrench from Portland, Oregon-a bright + juniper-forward IPA that's spent just enough time in gin barrels. Crazy Mountain's Gin Barrel Aged Juniper India Pale Ale amplifies pretty much everything we recall from that Pipewrench experience: with generous botanicals, engaging pine and tropical hop qualities, and potent gin-barreling.
In fact, while the bitterness levels here are just on the cusp of double-IPA territory, the 8.3% ABV and the subtle warming influences of the barrel (this could have picked up a reasonable amount of alcohol from the barrel itself) make this definitely feel like an imperial something or other. The residual bitterness here is still quite close to tongue-numbing, given a few sips, and its feel and intensity is certainly beyond what we'd expect from a normal gin-barrel IPA, if we can use the word 'normal' in this sense. It makes us wish for an imperial version of the Gigantic Pipewrench, as this ratcheted up everything that we loved about that experience to a whole different level. Delicious barrel qualities, and this could easily be a gin-barrel DIPA.
In any event, it's delicious. Our bottles of this didn't open with a huge pop, and the relaxed carbonation is perfect for not overdoing the body. This pours deep golden-orange with just a modest layering of off-white foam on top, and there's a hint of added viscosity here. It's a big, slightly hazed hop- and juniper-delivery device with a hint of wooden tones in its color.
The aromatics deliver a potent combination of juniper-led botanicals plus orange-centered hops, with layers of pine and touches of warming, vinous alcohol underneath. As this gets warmed up a bit from fridge temperature, more of that nuance from the barrel time begins to appear: the vanilla toastiness of oak tannins, hints of barrel char... As noted, the bubbles are just the right level for this beer, adding a subtle vibrancy along the edges without adding too much fizziness in the mid-section. That sturdy framework of hops shapes everything in this beer-intense pine, pithy citrus, plus more tropical notes on the periphery-while those juniper and herbaceous elements match seamlessly beside them. This is a beautiful, generous beer from Crazy Mountain-an intense hop bomb, perfectly accented by its gin and juniper.
Pairing & Aging Notes:
While potent enough to survive some cellar time, this hop-forward beer is definitely best on the fresher side, and we encourage Rare Beer Club members to enjoy bottles early on. Here, herbaceous and fruity hop qualities lead-we'd enjoy this one with roasted lamb or chicken.
---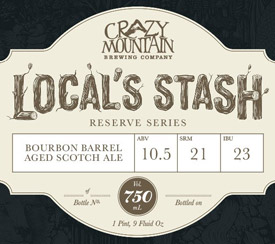 Local's Stash Reserve Series: Bourbon Barrel Aged Scotch Ale
Crazy Mountain Brewing Company – Edwards & Denver, Colorado
Style: Scotch-Style Ale aged in Bourbon Barrels
ABV: 10.5%
Serving Temp: 51-59° F
Suggested Glassware: Snifter, Thistle, Tulip or Cabernet Glass
We definitely had a challenge with the cork on our bottle-but the dense, massively layered liquid inside proves entirely worth it. This pours mostly headless, deep-dark cola with a red tint. Intense aromatics of caramel and sweet bourbon and brown sugar are tempered by the light, fruity alcohol at the core. Hints of roasted marshmallow and chocolate near its edges, with complex elements like cherry, dried fruit and tobacco adding further complexity here.
The relaxed carbonation in the two Crazy Mountain IPAs of this special offer does wonders with the interal structure of those beers, and the softened bubbles in the brewery's Bourbon Barrel Aged Scotch Ale give this beer exactly the right texture to dig in as well. Vibrant red fruits, tangerine, and streamlined caramel mostly lead here; that toasty bourbon presence sits nearby sorta like a sidecar, adding some levity and edge to the long ride ahead. Just a modest hint of heat here, surprisingly for the 10+% ABV, and this definitely seems the closest thing to a dessert beer of our Crazy Mountain selections. Chewy, intriguing, and worth savoring.
Pairing & Aging Notes:
The brewery suggests aging their Bourbon Barrel Aged Scotch Ale for up to a year after the bottling date. The caramelization and middle-malt focus suggest good pairing options with aged Goudas or roasted-pork dishes.

Click here to read or download the full special offer newsletter.
As always, if you have any questions or want something different from what we have listed above, please contact our Customer Service Team at 800-625-8238 and we will do what it takes to make it work.
Cheers!
Kristina Manning
Customer Service Manager