O'so Brewing Company: July 2017 Sour Beer Special Offer

Many of our Rare Beer Club members will recall O'so Brewing's Space Ace Oddity from earlier in the year — a Brett-fermented and double-dry-hopped white IPA that stood out for us as a perfect example of what this brewery's been up to. For our latest special offer, we've been lucky enough to have collected not one but four of O'so's expectional fruited sour beers, bringing together Scarlet Letter (with Wisconsin cranberries), Tuppen's Demise (Michigan blueberries), Arbre Qui Donne (Georgia peaches) and Blood of the Cherry (Door County cherries, plus cherry wood). These beers bring exceptional experiences revolving around the vibrant fruit, well-integrated barrel aging, and the brewery's ability to make great sour beers.
Cheers!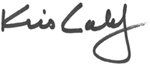 Kris Calef
President
---
For the PDF version of the Special Offer Newsletter, Click Here. The order form follows the beer descriptions below. To jump to the order form now, Click Here.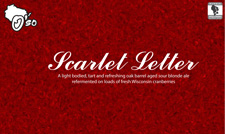 Scarlet Letter - Cranberry Sour/Wild Ale

O'so Brewing Company – Plover, Wisconsin
Style: Oak-Barrel-Aged Sour Blonde refermented w/ fresh Wisconsin cranberries

ABV: 5.5%
Serving Temp: 44-52° F
Suggested Glassware: Tulip, Lambic Tumbler or Pinot Glass
For Scarlet Letter, we start with tart cranberries appearing as a delicious, mouthwatering berry character throughout this beer. It pours somewhere between watermelon and peach in color, with a sunrise-like warmth and color gradation, everything capped by an off-white foam that leaves behind resilient, fine-bubbled lacing. It's a very appealing beer in the glass, stopping a bit short of juice-like but carrying the color of its special addition well. The aroma shows its core lemony tartness from the start, with welcome funk and an enveloping berry quality. A tart cranberry presence quickly takes center stage, and it's hard not to take a sip afterwards.
What we dig most about this collection of sour beers from O'so is, in the same way that we appreciate breweries like Cantillon or Almanac in this regard, their ability to bring out some exquisite dimensions from their fruit. Here, the complex cranberry notes are allowed to play out with accompanying citrusy tartness, just enough underpinning bubbles so as to stay out of the way, and a welcome, vanilla-inclined barrel character that serves for ideal foundation. The fruit sometimes feels peach-like, occasionally more along the lines of subtle raspberries, but it continually manages to impress. There's a touch of welcome tannins apparent around the edges, offering some helpful core structure. A brilliant, finely detailed fruited sour beer.
Pairing & Aging Notes:
Despite the light ABV, this has plenty of acidity and should be good for a bit of time in the cellar. We don't expect lambic-like longevity, and certain elements of the fruit character may dissipate sooner rather than later. Given its acidity and cranberry character, you could do far worse things with your life than bust a bottle of Scarlet Letter out for Thanksgiving turkey.
---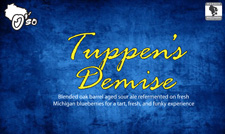 Tuppen's Demise - Blueberry Sour/Wild Ale

O'so Brewing Company – Plover, Wisconsin
Style: Blended Oak-Barrel-Aged Sour Beer refermented w/ fresh Michigan blueberries
ABV: 6.9%
Serving Temp: 44-52° F
Suggested Glassware: Tulip, Lambic Tumbler or Pinot Glass
All four of the fruited sour beers stem from the brewery's Extreme Beers lineup, which has a tendency to revisit this space when special fruit becomes available. This second of these four O'sos in our Rare Beer Club special offer incorporates fresh Michigan blueberries during its refermentation, resulting in a compellingly complex beer that has as much vibrant blueberry character as we've seen anywhere, and it's way different from what you'd get from syrups. In this beer, that berry character's pulpy and round and, undoubtedly, perfectly captured inside of this beer's central structure of vanilla and oak tannins and just-right carbonation. This is a second of four great examples of what these releases from Plover, Wisconsin do with fruit.
This pours a darker color than the Scarlet Letter, heading into more of a burgundy hue. It's hazy enough not to see through, with an off-white foam that's approaching a light pink. For all visual metrics: it's decidedly a serious fruit beer. The aromatics are a nice variation on the cranberry-focused impact presented by Scarlet Letter: here, the blueberry notes are boldly expressed without any thick, encompassing sweetness, and the underlying tart citrus with its oak accompaniments does a great job keeping everything in place. It's well showcased fruit.
With the Scarlet Letter's lean cranberry focus swapped out for a heartier blueberry presence, this sour beer brings forth a significantly darker collection of berries and fruits in the flavor. At times, the full package lands much like a red-fruit-forward Pinot: light tannin structure, a subtle boost from oak, a hint of tucked-away alcohol... This take just happens to be half the ABV of Pinot and effortlessly drinkable. The CO2 is just enough, and the tannins come in at the edges to orient things. The exceptional degree of fruit continues to evolve and expand as this beer warms: blackberry, currant, raspberry, boysenberry, pear... This landed effortlessly, then continued to offer up further nuances as we spent time here. Magical blueberry beer.
Pairing & Aging Notes:
This is a touch higher in ABV than Scarlet Letter, and fuller in flavor profile, such that it's a bit more sturdy for some cellaring time. Check aging bottles regularly to see how those fruit elements are evolving. For pairings, the blueberries plus lemony tartness had us thinking of vanilla-focused desserts and buttery pastries-syncing to the oaky vanilla at the beer's core.
---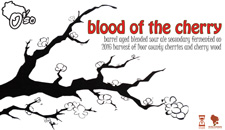 Blood of the Cherry - Cherry Sour/Wild Ale

O'so Brewing Company – Plover, Wisconsin
Style: Blended Barrel-Aged Sour Blonde Ale refermented w/ Door County cherries on cherry wood
ABV: 5.3%
Serving Temp: 44-52° F
Suggested Glassware: Tulip, Lambic Tumbler or Pinot Glass
Blood of the Cherry proves to be the most complex of the group so far. That warming and almost cinnamon-like wood character blends beautifully with the fruit presence, and there's an immediate appeal once this beer's poured. Toasty cherry-pie notes appear all throughout.
This pours with a vibe similar to Scarlet Letter's, though more watermelon and cherry juice than a peach sunset. The off-white foam offers particularly good lacing. The aromatics here are immediately on point: spicy wood, bold ripe cherries, and tart citruses syncing behind. It is firmly acidic and funky. But that tart-cherry-cinnamon focus makes this easy to get into.
It proved tough to choose favorites from this group of beers. Blood of the Cherry offers up exceptional depths of cherry character while always keeping things lean and firmly sour, and those accompanying pieces of vanilla and bright wood, crisp tannins, and lemony acidity are ideal for showcasing the Door County fruit. This often feels like well-realized Belgian kriek, albeit with the funk and tartness turned down a quick notch. Of the group, this might be the one we'd open for friends looking for a genuine fruited-sour-beer experience without going off the deep end. That aroma's stunning, and the woody spice is a perfect accompaniment.
Pairing & Aging Notes:
This one's tasting great at the moment, though it should be resilient enough for a bit of time in the cellar. That cherry and spice component had us thinking along similar pairing lines to Tuppen's Demise, with vanilla/pastry desserts. More savory options: duck, or pork carnitas.
---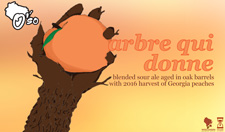 Arbre Qui Donne - Peach Sour/Wild Ale
O'so Brewing Company – Plover, Wisconsin
Style: Blended Oak-Barrel-Aged Sour Blonde Ale refermented w/ Georgia peaches
ABV: 6%
Serving Temp: 44-52° F
Suggested Glassware: Tulip, Lambic Tumbler or Pinot Glass
We have no idea which of these is our favorite now. O'so Brewing's Arbre Qui Donne gives a wholly unique experience after the three above, and, once again, that fruit character shapes the entire focus of this beer, highlighting ripe peach character alongside stellar tart structure.
As with the three above, this pours with pillowy off-white foam and great lacing. This shows a bright honey-golden color, with a modest haze such that it tends to glow. The aroma's full-on, vibrantly tart peaches from the start, a zesty squeeze of lemon and lime underneath. The wood character's a bit softer, providing notes like toasted almonds and marzipan-excellent beside the peach core. There's acidity to spare, fruit character to spare. It goes all-in on fruit.
Peach sour beers tend to be some of our very favorites, and Arbre Qui Donne delivers such a complex impact of fresh peaches and tartness that this one in particular disappeared from our glasses. Mouthwatering acidity, boldly sour lemons, and a bit more of a barrel character than the aromatics predict. There are some firm tannins and almond-inclined oak present, a warm flourish beneath the central impact of fruit. This gives such a massive impression from its peach additions. Pow! Peaches! All up in your domepiece! And they're friggin' delicious.
Pairing & Aging Notes:
As with the others, the acidity gives this some sturdiness for the cellar, but some of the fresh peach character may dissipate with time. Peach cobbler and vanilla-bean ice cream seems like an obvious option, given the core notes here, as does the almond-iness of Italian frangipane. Working within that peach and apricot emphasis, look to pork tenderloin or grilled chicken.

Click here to read or download the full special offer newsletter.
As always, if you have any questions or want something different from what we have listed above, please contact our Customer Service Team at 800-625-8238 and we will do what it takes to make it work.
Cheers!
Kristina Manning
Customer Service Manager