Why We've Outlasted the Rest, Providing Outstanding Products and Service Since 1994
From the very moment that our corporate charter to create a Mail-Order Beer Club second to none was drafted, we established our service as one that was truly differentiated.
Quality - We've been conducting our beer panel nights, headed by two of the more widely respected Masterbrewers in the industry, every other Monday at a local brewpub since 1994. Many claim to do the same. We actually do it. And Enjoy it! It truly separates us from the rest, as the beer tasting panel is a tough audience to please. Typically, less than 30 % of all rated beers are approved to be featured in our service. Check out our Sour Notes From the Panel page for some of the more colorful panel commentary of a few of the somewhat less than worthy beers evaluated over the years.
Variety - Many clubs offer the standard format of two 6-packs featuring only two beer styles each month. Some send twelve bottles of the same beer. We always feature two different beer styles from two different breweries, offering four distinct beer styles in each shipment. In addition, we pay great attention to offering variety with respect to where our featured selections are brewed, both within each shipment as well as from month to month.
Freshness - Most microbrews are brewed in accordance to the German Reinhietsgebot Purity Law, allowing only water, barley, hops and yeast as ingredients, which means they aren't pasteurized. They're generally bolder and more flavorful, but more delicate and subject to being compromised than their pasteurized big brothers. It's no secret that offering consistently fresh & flavorful beers has been one of the keys to our success. We do it in a number of ways:
Every beer featured is brewed to order for our members just weeks before you receive it.
Random samples are evaluated again after we've taken delivery to ensure freshness and that the beer delivered is in fact of the same quality of the samples approved earlier by our panel.
We focus on beers with higher hop acidity, higher alcohol by volume percentages and generally more durable styles in the warmer months of the year so they'll travel better.
Our packaging nearly encapsulates each beer with environmentally friendly recyclable pulp trays.
Rare, Hard-to-Find Selections - We go out of our way to find undiscovered breweries representing the entire country. Additionally, we focus on seasonal beers such as bocks, Hefeweizens, pumpkin ales and spiced winter ales that are limited production batches, only produced once a year and distributed lightly.
A Fun, Informative Newsletter Second to None - Simply put, our monthly newsletter is unmatched by our competition. Each edition describes the history of each featured brewery, the background of its brewmaster, how each beer is made, and tasting notes detailing what you should look for when trying them! Our highly trained Australian Sheepdog, Murl, has a longstanding column since our inception where he answers tough beer related questions in his own special way. According to our members, "Ask Murl" is, hands down, the highlight of our newsletter!
Although the Mail-Order Beer Industry has changed dramatically over the years, we still offer unmatched quality, variety, and freshness coupled with a partnership attitude in customer service with each and every one of our members. Thank you for visiting our site and taking the time to read about why we think we're the best.
Learn more about the history of mail-order clubs and the other great monthly clubs we offer: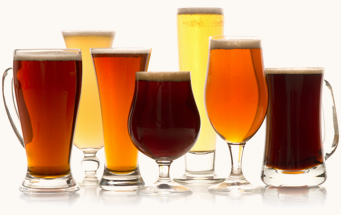 Unmatched Variety by style, brewery & country
Choose from Five different Beer Clubs offering unmatched variety by brewery,
country of origin, and beer style to suit your specific tastes.
DISCOVER OUR FIVE CLUBS
Responsive Customer Service
Our friendly and knowledgeable customer service team will help you with any questions. You may also place orders over the phone.
M- F, 7am- 5pm Pacific
Rated Customer Service
Assuring satisfaction to over 1,000,000 CUSTOMERS since 1994 has earned us an
rating from the BBB. A BBB Accredited business since 10/05/2005
View Our Profile
100% Satisfaction Guarantee
Our 100% satisfaction guarantee ensures that every item you purchase at The Microbrewed Beer of the Month Club meets your high standards or we will replace it or refund your purchase.