This is why we stand out from the rest
| CraftBeerClub.com | |
| --- | --- |
| BeerMonthClub.com | Choose from 5 membership types |
| | Both U.S. and/or Int'l club options available |
| | 12 oz and Rare 750 ml club options |
| | Hop-Heads Beer Club™ featuring only hoppy beers |
| | Can combine 5 beer clubs into one membership |
| | Can combine beer clubs with other non beer clubs |
| | Lists past featured beers on website |
| | Exclusive selections * |
| | Memberships from 2-12 months |
| | Can pay monthly for gift memberships |
| | Re-order your favorite beers online easily |
| | 100% Satisfaction Guarantee |
| 2010 | Year founded |
| AmazingClubs.com | |
| --- | --- |
| BeerMonthClub.com | Choose from 5 membership types |
| | Both U.S. and/or Int'l club options available |
| | 12 oz and Rare 750 ml club options |
| | Hop-Heads Beer Club™ featuring only hoppy beers |
| | Can combine 5 beer clubs into one membership |
| | Can combine beer clubs with other non beer clubs |
| | Lists past featured beers on website |
| | Exclusive selections * |
| | Memberships from 2-12 months |
| | Can pay monthly for gift memberships |
| | Re-order your favorite beers online easily |
| | 100% Satisfaction Guarantee |
| 2004 | Year founded |
| GreatClubs.com | |
| --- | --- |
| BeerMonthClub.com | Choose from 5 membership types |
| | Both U.S. and/or Int'l club options available |
| | 12 oz and Rare 750 ml club options |
| | Hop-Heads Beer Club™ featuring only hoppy beers |
| | Can combine 5 beer clubs into one membership |
| | Can combine beer clubs with other non beer clubs |
| | Lists past featured beers on website |
| | Exclusive selections * |
| | Memberships from 2-12 months |
| | Can pay monthly for gift memberships |
| | Re-order your favorite beers online easily |
| | 100% Satisfaction Guarantee |
| 1994 | Year founded |
Order Your Own Craft Beer Subscription Box
The Microbrewed Beer of the Month Club doesn't just make a great gift, it's also the perfect choice for a personal monthly beer subscription box. As the best beer subscription club on the market, we allow you to choose from four different craft beer club subscriptions, including The Rare Beer Club®, an option that isn't offered by any other beer subscription company. Simply select the club that fits your tastes, decide when you want to receive your monthly beer box, and wait for artisanal beers from the world's leading craft breweries to be delivered straight to your door. We even allow you to customize your very own IPA-only beer club. How easy is that?
Quality and Variety Since 1994
The key to our success is our quality-driven beer selection process. With over 100 collective years in the brewing industry, our panel of Beer Judges and Brewmasters ensures that we're shipping a variety of quality craft beers month after month. We rate over 500 beers per year from breweries around the world to bring you rare and exceptional selections each month. Although the core of our panel is made up of industry professionals, we also invite employees, local homebrewers, and others that are simply enthusiastic about craft beer to join our panel nights. Ultimately, their diversity of preference, experience, and taste represents that same diversity that exists within our customer base. We're so proud of our past featured beers that we list them all the way back to 1995.
No other club offers five different membership types offering only US craft brewed beers, imported selections, both US and imported selections, and 750 ml rare beer offerings from the world's most respected breweries. You can even combine the five different beer clubs into one customized subscription, shipping every month, every other month, or on a custom shipping schedule using our Design Your Own Club™ program.
Our 100% satisfaction guarantee ensures that every item you purchase at The Microbrewed Beer of the Month Club meets your high standards or you can return it for a replacement or refund.
Thank you for taking the time to compare our service with other craft beer subscription boxes on the market. I hope to earn your trust and business.
Cheers,

Kris Calef
President and Founder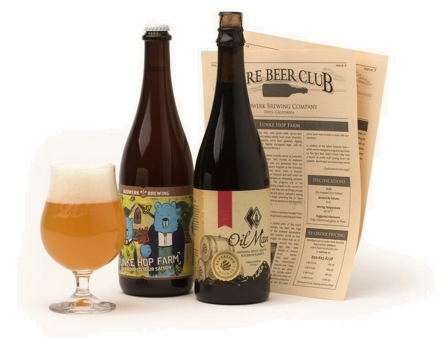 Responsive Customer Service
Our friendly and knowledgeable customer service team will help you with any questions. You may also place orders over the phone.
Mon-Fri, 7am - 4pm Pacific
Rated Customer Service
Assuring satisfaction to over 1,000,000 CUSTOMERS since 1994 has earned us an
rating from the BBB. A BBB Accredited business since 10/05/2005
View Our Profile
100% Satisfaction Guarantee
Our 100% satisfaction guarantee ensures that every item you purchase at The Microbrewed Beer of the Month Club meets your high standards or we will replace it or refund your purchase.