Rare Beer Club 2-Bottle Selections - October 2017

---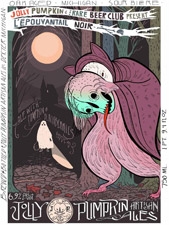 L'épouvantail Noir [Rare Beer Club exclusive]
Jolly Pumpkin Artisan Ales — Dexter, Michigan

[Oak-Aged Saison w/ Pumpkin & Blackberries – 6.9% ABV]
This month we're proud to bring you a very special beer brewed exclusively for members of The Rare Beer Club by one of our favorite breweries, Jolly Pumpkin, and its founder and brewer, our friend Ron Jeffries. This is one of a number of Jolly Pumpkin exclusives that we've had the pleasure of featuring in recent years; others include Lúpulo de Hielo in 2011, Los Vivos y Los Muertos in 2014, and Rosie del Barrio in 2016 — all of which were delicious releases. For us, L'épouvantail Noir is a truly special one, and one of the best and brightest expressions we've encountered from Jolly Pumpkin to date. It's potent, mouthwatering oak-aged beer, and it's been made especially for our club members and will only be available through The Rare Beer Club, with only very limited amounts at the brewery's tasting room and a couple of events.
While L'épouvantail Noir is a pumpkin beer, expect a boldly tart, fruit-driven saison rather than spice. Deep and honeyed golden to its core, softly hazed and topped by sturdy white foam, the beer offers generous and brightly citrus-forward aromatics including tangerine, tart lemon, grapefruit, bitter orange and a subtle edging of funk with soft supporting roles of blackberry and oak. It's mouthwatering, layered with intricate fruit dimensions. While there's potent sourness on the palate, it really opens up into a soft, plush saison with just a bit of time in the glass. Vibrant bubbles lend an effervescent texture without feeling fizzy. It's hard to avoid lambic comparisons, and that experience of bracing, lemony tartness and a complex sour core is, by all means, well met here, with the oak adding some modest tannin structure plus vanilla and almond. Both the pumpkin and blackberry additions keep to secondary roles behind the complex yeast character, but the blackberries come through with a nice dark-berry character alongside the vanilla and citrus. Oak-aged saison remains the key focus of this beer: rustic, toasty underpinnings with boldly tart citrus and peppery yeast.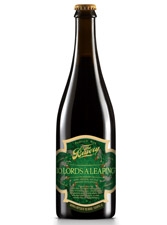 10 Lords-A-Leaping
The Bruery — Placentia, California
[Dark Imperial Wit Ale w/ Ten Different Spices – 10.5% ABV]
The Bruery needs little introduction to those among the beer cognoscenti. As a result of their unbridled creativity and skilled barrel-aging practices, The Bruery's beers are some of the most highly coveted out there. Our affinity for their "12 Days of Christmas" series is well known, as The Rare Beer Club has been making these annual one-off limited releases available to our members since 2009's 2 Turtle Doves. This year, we're again excited to bring you the next chapter—or verse—in this 12-year-long vertical series. Stock up now because once it's gone, it's gone!
A full-bodied dark imperial wit, 10 Lords is brewed with a mellow assortment of 10 different spices to celebrate its position in the lineup: allspice, anise, cinnamon, cloves, coriander, dried apples, ginger, mace, nutmeg and orange peel. The overall impact is nuanced and warming and perfect for this deep, dark chocolate-brown brew. In the aroma, generous clove, banana, and peppery yeast notes lead the way. These blend seamlessly alongside the other spicing elements, with the cinnamon, ginger and apple additions showing through particularly clearly. The darker malts offer subtle toffee and caramelized notes, giving the impression of dunkelweizen. In fact, on the palate, amped-up dunkelweizen repeatedly comes to mind, as this combines a chewy, almost-hefeweizen-like yeast character with dense, caramel and dried-fruit notes from the darker malts. But those 10 spices build out an entirely new dimension relative to any other dunkelweizens (or similar) we've had before. There's an excess of delicious echoes here: from holiday spice, to mulling spice, to witbier spice, to yeast-y spice... But, as a whole picture, 10 Lords-A-Leaping comes together as a smooth, complex stunner.

Click here to read or download this month's full newsletter.
As always, if you have any questions or want something different from what we have listed above, please contact our Customer Service Team at 800-625-8238 and we will do what it takes to make it work.
Cheers!
Kristina Manning
Customer Service Manager