Rare Beer Club 2-Bottle Selections - May 2017

---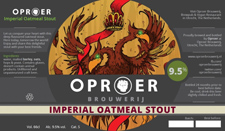 Imperial Oatmeal Stout
Oproer Brouwerij — Utrecht, The Netherlands

[Imperial Oatmeal Stout - 9.5% ABV]
The recently-formed Oproer was launched in early 2016 through the merger of two well-established Dutch breweries, Rooie Dop and RUIG Bier. While the brand is just starting to make headway on an international scale, they've already done some world-class collaborations with top-tier breweries such as Hair of the Dog, Deschutes, Fat Heads, Brew By Numbers, Buxton, Gigantic, and Breakside. Oproer sees just a sprinkle of distribution in the U.S.; only about 50 cases of this month's featured Imperial Oatmeal Stout have come to our shores over the past two years and most of this year's allocation is going to Portland in draft form.
Pouring a deep, dark chocolate brown capped by a thick dark-tan head, this Imperial Oatmeal Stout offers aromatics which are dark chocolaty and licorice-driven from the start, with complexity from an array of dark malts offering roasted coffee, baker's chocolate, and even toasted marshmallow. Emergent vanilla, almond and red fruits appear as this imperial stout is allowed to warm up. The flavor arrives with a generous measure of the anticipated coffee and rich chocolate, while its subtle perimeter of mineral hop bitterness is supported by the roast and char of the darkest malts. For imperial stout lovers: This is an impressively impactful and generous example, with oats helping round the edges out and open up a middle-malt space offering caramel, sweet toffee, more toasted marshmallow, almond and fresh-baked bread.

Space Ace Oddity (Rare Beer Club Exclusive)
O'so Brewing Company — Plover, Wisconsin
[White IPA w/ Sorachi Ace, Nugget & Galaxy hops, Bottle-Conditioned w/ Brettanomyces - 6.5% ABV]
O'so Brewing Company, in the small village of Plover, Wisconsin, has quietly become one of the very best breweries in the state-and we're pumped to be able to bring one of their most delicious beers to our members as a Rare Beer Club exclusive. O'so was founded in 2007 by husband-and-wife team Marc and Katina Buttera, and in the succeeding years O'so has become one of the fastest growing breweries in the state; their year-round The Big O wheat ale won gold at the GABF in 2015, and their hoppy and sour releases, especially, have made them one of the most influential breweries in Wisconsin. We've followed these folks for a while-and finally snagged a perfect club beer.
Space Ace Oddity is certainly one of the most delicious Brett IPAs we've ever crossed paths with. The first batch of this exceptional beer was released back in 2016 as a one-off tribute to David Bowie. And, somehow, we were able to convince them to rebrew Space Ace Oddity for a Rare Beer Club exclusive this month. O'so does a lot of complex sour beers as a key part of their operation, and Space Ace Oddity offers masterful Brettanomyces characteristics which join perfectly to this beer's generous, tropically inclined hopping. The Galaxy, Nugget and Sorachi Ace additions, in tandem with the Brett and zesty carbonation, help to make this one of the brightest, most refreshing hoppy beers we've found in quite some time. It's hazy, deep, and super tropical, teetering between straw and deeper golden in color. Generous aromas abound, including juicy lime, pineapple, bitter grapefruit and papaya. The line between characteristics from the Brett conditioning and the fruity hops is really hard to find-which is a good thing. This is seamlessly tropical and mouthwatering, with firm IPA bitterness. The Brettanomyces offers subtle funk and the ripest tropical components, and the yeast and hops work together to transcend the amount of tropical flavor normally available to either one alone.

Click here to read or download this month's full newsletter.
As always, if you have any questions or want something different from what we have listed above, please contact our Customer Service Team at 800-625-8238 and we will do what it takes to make it work.
Cheers!
Kristina Manning
Customer Service Manager