Rare Beer Club 2-Bottle Selections - January 2017

---
Achel Trappist Extra
St. Benedictus Abbey — Achel, Belgium

[Strong Trappist Ale - 9.5% ABV]
Brewing operations at the St. Benedictus Abbey started back in 1850, but they took a long pause from WWI all the way until 1998 when Brother Thomas (who had been the brewmaster at Westvleteren, Westmalle and Orval), resumed brewing operations. Today, St. Benedictus Abbey remains the smallest of the six Belgian Trappist breweries, with production levels even smaller than Westvleteren. Additionally, the brewery is one of only two Belgian Trappist breweries in which the monks are still involved in the day-to-day brewing operations.
Achel Trappist Extra has long been one of our favorite Trappist beers, brewed by the smallest monastery brewery in Belgium, and only about 300 cases total are brought into the U.S. each year. Compared to other Trappist offerings, which are entirely stellar in their own right, there's something unique about how Achel Trappist Extra is composed: a lighthearted but deeply complex beer, arguably in quadrupel terrain, but quite different and smoother and more red-fruit-driven. The beer pours a beautiful deep amber, almost mahogany, and offers aromas of cherry, strawberry, blackberry and plum, along with deeper, darker notes like dates and leather. In the flavor: complex fruit-leather and dried fruit with the date and leathery notes bolder than in the aromatics, with greater hints of caramel, and moderate Belgian yeast character offering pear and white pepper notes. This is ultimately an especially plush, magnificent, super-drinkable Belgian ale which should age nicely if you can manage to tuck away a few bottles.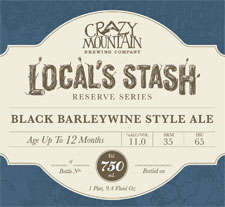 Local's Stash Reserve Series Black Barleywine
Crazy Mountain Brewing Company — Edwards & Denver, CO

[Black English-style Barleywine - 11% ABV]
Crazy Mountain Brewing Company is one of our favorite up-and-coming breweries. Founded in January 2010 by Kevin Selvy and his wife Marisa, it was the Vail Valley's first production brewery. The last seven years have delivered tremendous success, with the brewery being expanded twice to meet increased demand. Their Local's Stash series consists of unique, weekly releases available in very small amounts, and we've managed to secure their Black Barleywine from that series as an exclusive offering this month for our Rare Beer Club members!
The Local's Stash Black Barleywine pours very nearly black save for some reddish flashes when held to a strong light. Aromas of both milk and dark chocolate appear, augmented by touches of ash and scorched caramel. Those roasty chocolate notes hit upfront in the flavor, too, along with a central vinous character. There are definite similarities to imperial stout, but whereas many modern American imperial stouts tend to veer a bit more towards heavy viscosity and a big dose of residual sweetness, this brew keeps the sweetness to a moderate level while allowing the high ABV to provide some lift on the palate (but with the heat at a minimum). Effortlessly countering the residual sweetness are plenty of bitter hops, generating some earthy, spicy, and woody notes, which are augmented by the roasty elements in concert with those alcohols and the carbonation. Under it all is a shot of esters conjuring dried red and black fruits. The whole thing comes across balanced, complex, deliciously intriguing, and quite drinkable, and it's an excellent candidate for cellaring, as well. Cheers!

Click here to read or download this month's full newsletter.
As always, if you have any questions or want something different from what we have listed above, please contact our Customer Service Team at 800-625-8238 and we will do what it takes to make it work.
Cheers!
Kristina Manning
Customer Service Manager