Rare Beer Club 2-Bottle Selections - February 2017

---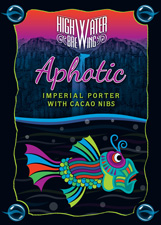 Aphotic (with Cacao Nibs, Rare Beer Club Exclusive)
High Water Brewing Company — Stockton, CA

[Imperial Porter with Cacao Nibs - 10.5% ABV]
Headed by Steve and Barri Altimari, High Water began production in spring of 2011. Steve serves as brewmaster and president, with around two decades of professional brewing experience under his belt. Up until 2010 he served as brewmaster at Valley Brewing Co., where he released highly coveted, limited bottlings of things like Überhoppy (a massive imperial IPA) and his Decadence line of barrel-aged sour ales. Barri's background as a brewpub owner, sous/pastry chef, and developer of recipes for food companies serves her well as brewery flavorologist, assisting in developing their new beer recipes. High Water's steadily been making a reputation for themselves across the West Coast, and we're excited to be able to work with them this month to bring our members an exclusive beer: a special and unique version of their dynamite Aphotic imperial porter.
High Water's normal Aphotic weighs in around 9.2% and is a textbook demonstration of dark malts: rich, roasted, deep in chocolate, and full of dried fruit and licorice. But, our Rare Beer Club exclusive bottling features an amplified recipe yielding an increase to 10.5% ABV, with engaging chocolate notes from an addition of Ghanaian cacao nibs adding a lux smoothness. Dense central maltiness of milk and dark chocolate meets a subtle edge of roast and mineral bitterness, with a dash of pine-inclined hops adding a hint of juiciness. We kept going back to how streamlined this seems: Even at 10.5%, it always stayed a pleasure to sip, and there's a dense tapestry of flavors to this one that stays tightly packed. Look for caramel, notes of licorice, and a finish of cocoa and dark chocolates.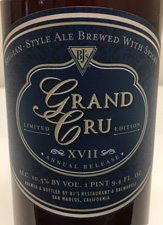 Grand Cru
BJ's Restaurant & Brewhouse— San Marcos, CA

[Belgian-Style Strong Ale with Spices - 10.5% ABV]
Our history with BJ's brewmaster Alex Puchner goes back a long ways. Back in 1994 Alex was brewing for what was Laguna Beach Brewing, and BJ's wasn't even brewing beers back in those days. Alex had been homebrewing for nearly a decade by then and, along with Laguna Beach, had honed his skills at Newport Beach Brewing, Huntington Beach Brewing, and Westwood Brewing. Amidst all of that, Alex served as a founding brewmaster on our Club's selection panel, working with us for our first three years and providing invaluable insight into Belgian-style brewing (a special interest and expertise of his) in our fledgling days. Today Alex is the Sr. Vice President of Brewing Operations at BJ's, and we're excited to have the opportunity to bring our members their annual holiday seasonal release - Grand Cru, whose distribution outside the Rare Beer Club is limited only to certain BJ's locations in California.
Pouring tarnished golden with a glistening head, its pale look belies its strength. Initially, this comes off like a Belgian tripel, emphasizing assertive peppery notes as a dominant character, but this covers a lot more terrain. The aromatics show a lot more richness, offering up some soft doughiness, vanilla, floral honey, and burnt sugar alongside bittering white-pepper phenols that take center stage, supported by some dry clove. This tastes like a tripel on steroids, in other words. The addition of orange peel and coriander adds a citrusy brightness and mellowing nuttiness, while the core maltiness feels seamless, going from honey to cotton candy to dates to sweet herbs. The sweetness is in check throughout and it feels light, deft, and focused - as great tripels do. A nice balance continues in the finish, offering pepper matched with honey, vanilla with clove. Grand Cru should age favorably for up to five years, so don't be afraid to set some bottles down for a good long rest.

Click here to read or download this month's full newsletter.
As always, if you have any questions or want something different from what we have listed above, please contact our Customer Service Team at 800-625-8238 and we will do what it takes to make it work.
Cheers!
Kristina Manning
Customer Service Manager