Rare Beer Club 4-Bottle Selections - June 2017

---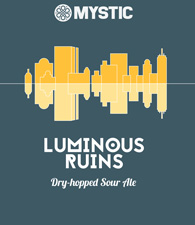 Luminous Ruins
Mystic Brewery — Chelsea, Massachusetts

[Dry-Hopped Sour Farmhouse Ale - 4.3% ABV]
Mystic Brewery was founded in 2009, with the first beers being commercially sold in 2011. Bryan Greenhagen and his wife had traveled to Belgium for their honeymoon and been inspired by the saisons and mature drinking culture they'd found across Europe. Their resultant brewery, often touching upon some of those more obscure European styles, has been gaining steam ever since. Mystic's use of things like square fermenters and bottle conditioning makes for some incredibly nuanced stuff. They bottle-condition 80% of their beer, focusing on saison and farmhouse ales and, most recently, perfecting a kettle-sour program and trying to bring a higher level of nuance into that space. Distribution is quite limited; almost a majority of the brewery's output is through Mystic's taproom in Chelsea at any given moment.
Pouring a medium-golden color with an exuberant bright white head, Luminous Ruins is brilliantly clear and effervescent. Citrusy tartness leads the aromatics before revealing a good bit more complexity, including toastiness, as this warms. There are tart lemons, Concord grapes, tart grapefruit, and peach, plus rounder red fruit, white pepper, and hints of fresh lime. Fruit and subtle phenols run the show, with just a touch of oak-aging adding a bright presence of wood beside the beer's pepper-focused notes. The aromas translate to the palate too; this is a serious sour beer-but endlessly refreshing. There's a ton of complexity, but it also is laser-focused on refreshment from: lean mouthfeel, fine-bubbled carbonation, grassy hoppiness (via dry-hopping), and citrusy acidity ranging from bracing to subtle. On the complexity side, there's that plus everything else: all the citrus fruit and fruity esters and pepper/clove bitterness and subtle oak influence. 2016 saw only about 65 cases of Luminous Ruins make it into distribution (MA only). A little more might be produced this year, but sightings will still be rare. Enjoy!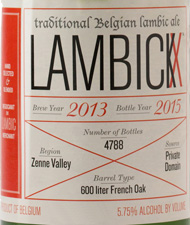 2015 Hand Selected Lambic
Lambickx Private Domain — Zenne Valley, Belgium
[Blended Lambic - 5.75% ABV]
The Lambickx brand is owned by our importing partners over at Total Beverage Solution, and the Pajottenland lambic barrels that go into each particular blend are selected and tasted by a team led by Roger Mussche, based upon the diversity, complexity, and wild nature of the lambics. The approach to these Lambickx blends came from Mussche and renowned Belgian beer importer Don Feinberg, co-founder of Brewery Ommegang. Time and again we've been impressed with how the creators of this series take a diverse set of lambic barrels and make something that feels just effortlessly smooth and expansive.
The Lambickx Private Domain 2015 Hand Selected Lambic was originally brewed in 2013, then aged in 600-liter French oak barrels before being bottled in 2015. In the glass it's radiant-honey-golden and sparkling with a creamy, fine-bubbled white head. Aromatics include vibrant core citrus notes of sweet pomelos and lemons and all sorts of accompanying tartness, plus huge secondary complexity via fresh-cut apple and pear plus its non-fruity elements and oak-barrel aging: hints of vanilla and almond and toasted barrel. On the palate: juicy tart lemon and grapefruit, a toasty counterpoint of oak and white pepper, and a little salinity and funk combine for what's ultimately bracing but undeniable refreshment sip after sip. A just-fizzy-enough dose of CO2 provides lift for all of the different elements here. These Lambickx releases see a very modest release in the U.S.: just over 100 cases made it in 2016, scattered in wee handfuls across about a dozen states.

Click here to read or download this month's full newsletter.
As always, if you have any questions or want something different from what we have listed above, please contact our Customer Service Team at 800-625-8238 and we will do what it takes to make it work.
Cheers!
Kristina Manning
Customer Service Manager