Rare Beer Club 4-Bottle Selections - August 2017

---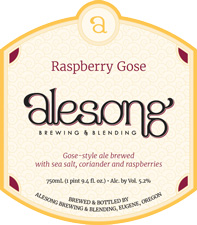 Raspberry Gose [Rare Beer Club exclusive]
Alesong Brewing & Blending — Eugene, Oregon

[Gose-Style Ale w/ Sea Salt, Coriander & Raspberries - 5.2% ABV]
Alesong was founded in 2015 by three partners: brothers Brian and Doug Coombs, and long-established brewer Matt Van Wyk. Matt's been brewing world-class beers for more than a decade, helping to put Flossmoor Station in Illinois on the early beer-geek radar (in 2006 he was named Small Brewpub Brewer of the Year at the GABF). More recently, Alesong took gold in the Brett Beer category at the 2016 GABF. Their focus is on small-batch beers using plenty of oak aging and Belgian-influenced techniques, with the majority of their beers seeing three months to three years of maturation in oak barrels. There's no flagship beer at Alesong. Blends come together as the maturing beers are ready, and they're always moving towards new and interesting creations, rather than trying to replicate the irreplicable act of long-term barrel-aging.
Alesong's Raspberry Gose is one of the best raspberry beers we've ever had. This brew goes through a secondary fermentation on raspberries, added at a pound per gallon, and that fruit focus becomes very clear as soon as this beer shows its pulpy, well-hazed burgundy color in the glass. Everything fits together in the aroma and flavor; the raspberries are like fresh, whole fruit in the nose, that delicate berry character lifted and amplified by lemony citrus notes. Lactobacillus provides an impact of tart, lemony lactic acidic that's seamlessly integrated with the fruit additions. We found hints of toasty wheat, along with a subtle, spicy undercurrent from the coriander addition, and the sea salt provides a welcome touch of salinity. This is the very first release of Alesong's Raspberry Gose, and we're thrilled the team over at the brewery worked with us to make this one a Rare Beer Club exclusive. Aside from a little bit being held back for their tasting room, the bulk of the entire batch has been allocated for our thirsty RBC members.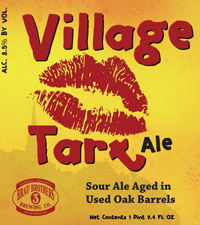 Village Tart
Brau Brothers Brewing Company — Marshall, Minnesota
[Oak-Barrel-Aged Sour Blonde Ale - 8.5% ABV]
Straight out of college in 1999, Dustin Brau and his wife, Mary, bought a restaurant in the small town of Lucan, MN, which they named BrauHaus. The duo decided to begin offering their very own BrauHaus beers made on-premises, thus turning their home brewing hobby into a legitimate microbrewery. Their tiny 2-barrel system was barely enough to keep up with the demand of their restaurant, so in 2006 they moved their beer production to a larger building in Lucan. Dustin's brothers, Trevor and Brady, joined the enterprise, along with their father, Dale. Fast forward to the present day, and Brau Brothers enjoys 37,000 square feet of space in a new facility in Marshall, MN, 3,500 of which is devoted to barrel-aging, allowing Brau Brothers to produce a wide variety of beers, including sours.
Village Tart seemed like the ideal counterpoint for our other featured pick this month. Whereas Alesong's Raspberry Gose is an especially plush and fruit-forward rendition in sour space, Village Tart presents compelling visions of the more savory side of things. Aged in used whiskey barrels, that spirit character is integrated into this beer in a way we found surprising and a revelation. The base beer is a potent Belgian-style blonde ale, and the complex fermentation qualities alongside the careful barrel influence did wonders. This is incredibly complex, both savory and spicy in turn. It's a sour ale first and foremost, despite the potency of those whiskey notes in the aroma. The barrels bring in toasty notes, almond, and the complex sour-mash-y spirit that preceded the beer. Also appearing are a range of tart citruses, white pepper, fresh lemon & grapefruit, and even hints of a smokiness that brings these elements together into a delicious focus. This is an out-there, adventurous beer that we found exceptionally unique and tasty. It's a very limited release and our Rare Beer Club members will be among the few who will be able to get their hands on bottles. It took a lot of time and effort to make this release, and we hope you dig it as much as we did. Cheers!

Click here to read or download this month's full newsletter.
As always, if you have any questions or want something different from what we have listed above, please contact our Customer Service Team at 800-625-8238 and we will do what it takes to make it work.
Cheers!
Kristina Manning
Customer Service Manager