Rare Beer Club 4-Bottle Selections - December 2016

---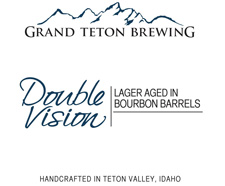 Bourbon Barrel Aged Double Vision (Rare Beer Club Exclusive)
Grand Teton Brewing Company — Victor, Idaho

[German-Style Doppelbock Aged in Bourbon Barrels – 11% ABV]
Grand Teton's story begins in 1988 when the Otto Brothers' Brewing Company (eventually renamed as Grand Teton Brewing Co.), became the first modern microbrewery in the state of Wyoming. Three years later, they opened the state's first brewpub. Since then, they've opened a newer facility in Victor, ID where they continue to produce beers with locally-grown barleys and Northwestern hops, as well as nearby Teton Glacier water. We've been lucky to have the opportunity to feature several of their small-batch 750-ml-sized beers in the past, and this month we're excited to bring you another as a Rare Beer Club exclusive offering. Other than a few cases available at Grand Teton's tasting room, The Rare Beer Club is the only place to get your hands on this month's featured beer.
We've long been fans of Grand Teton's Double Vision, the base beer for this release. It's an incredibly well developed American doppelbock offering a glorious range of malts, from caramel to chocolate to subtle roast to touches of dark coffee. With this barrel-aged version's extended time inside of bourbon barrels, it's actually picked up a huge amount of additional fruitines and round, plush sherry notes. Overall it feels plush: fluffy, lighthearted, incredibly dense with caramel, dried dark fruits and honey, and other delicious complex stuff. Its bourbon note hints at a bit of char and alcohol warmth, but more than anything we find light vanilla, toasty oak, leather, toffee. The barrel time has done wonders for a beer we already found impressive. This may just be the tastiest Grand Teton release we've ever tried.
Avec Les Bons Voeux
Brasserie Dupont — Tourpes, Wallonia, Belgium

[Strong Holiday Saison – 9.5% ABV]
Dupont needs little introduction for those with an interest in Belgian beer. In reflecting on the provenance and characteristics of classic Belgian saison in his Great Beers of Belgium, our Club's founder Michael Jackson wrote, "The most famous Saison strain is that of the Dupont brewery. 'A brewer with the Dupont yeast is touched by God,' I was told by a proud possessor." It's pretty difficult not to be enamored by the beers of Brasserie Dupont, a brewery that under the direction of 4th generation family brewer, Olivier Dedeycker, continues to offer benchmark versions of traditional Belgian ales as well as more unusual offerings such as Posca Rustica, a Gallo-Roman gruit beer we were excited to feature back in 2011.
We've had the opportunity to sample many different limited releases from Brasserie Dupont over the years—but we always make a point to keep coming back to one in particular. We're huge fans of Dupont's seasonal, limited-release Avec Les Bons Voeux: a gloriously generous "super saison" that is crisp and massive all at once. The aroma is generous and complex, and Dupont's crackling, peppery house yeast is all over this, offering phenolic white pepper notes plus a touch of clove—held aloft by pillowy sourdough, vanilla, almond and candied orange. There's an abundance of fruit, all the way from fresh apple and banana to elements more like sweet lemon. Everything about the aroma follows through in the flavor, bolstered by toasty notes, and an effervescent, lifting carbonation that lands right beside the pepper. Despite its complexity and big ABV, Avec Les Bons Voeux remains incredibly drinkable; it's a hefty, robust saison that somehow manages to stay refreshing and vibrant all at the same time!

Click here to read or download this month's full newsletter.
As always, if you have any questions or want something different from what we have listed above, please contact our Customer Service Team at 800-625-8238 and we will do what it takes to make it work.
Cheers!
Kristina Manning
Customer Service Manager