Rare Beer Club 4-Bottle Selections - October 2016

---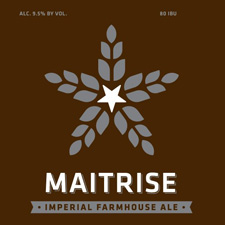 Maitrise
Fulton Brewing Company — Minneapolis, MN
[Imperial Farmhouse Ale w/ Nelson Sauvin hops - 9.5% ABV]
About ten years ago, the four folks behind Fulton Beer-Ryan Petz, Brian Hoffman, Pete Grande, and Jim Diley-were just starting to homebrew together in Jim's piddly and cold one-car garage. But that homebrewing inlet, like so many unexpected and fiscally questionable paths into professional brewing, led them a few years later to start Fulton Beer together. Last year we were pleased to be able to bring our members Fulton's War & Peace, a massive imperial stout. This month, we're excited to go in a totally different direction: an imperial farmhouse ale (with a dose of Nelson Sauvin hops!). This brew will see distribution only in MN, WI, and a sliver of ND, with fewer than 250 cases available outside of what we're taking for our Rare Beer Club members!
Maitrise pours a beautiful, bright honeyed-orange, capped by a spirited head of persistent foam. Expressive aromas of honeycomb and tree fruit come forth immediately, with additional notes coming as it warms: complex floral notes hinting at rose and apple; peppery saison phenolic notes, a rich melony, tropical character from the Nelson Sauvin hops, crème brûlée, and a little sourdough tartness and a whiff of passion fruit. Amidst uplifting carbonation, complex flavors emerge including honey, pepper and clove (with a yeast quality somewhere in the middle of peppery saison and tripel), cotton candy, light caramelization, and expansive fruit character including lime, Meyer lemon, melons, and pear.

9 Ladies Dancing
The Bruery — Placentia, CA
[Strong Ale w/ Cacao Nibs, Vanilla, Coffee & Lactose - 11.3% ABV]
The Bruery needs little introduction to those among the beer cognoscenti. As a result of their unbridled creativity and skilled barrel-aging practices, The Bruery's beers are some of the most highly coveted out there. Our affinity for The Bruery's "12 Days of Christmas" series is well known, as The Rare Beer Club has been making these annual one-off limited releases available to our members since 2009's 2 Turtle Doves. This year, we're again excited to bring you the next chapter-or verse-in this 12-year-long vertical series.
Long time members of the club know that, regardless of the style chosen, they should expect a big brew capable of extensive cellaring, and 9 Ladies is certainly no exception. This year's brew was inspired by tiramisu, and special ingredients include cacao nibs and coffee, vanilla and lactose-but the result is a lively, fruit-forward release that's hugely drinkable fresh, though built to age very gracefully. At no point does this one feel overly weighty, despite its dessert influences. Tiramisu was actually most apparent in the aroma for us, with notes of coffee-soaked wafers and hints of caramel landing above a robust red-fruit character. In the flavor: generous, layered fresh-fruit balanced by subtle caramelization and secondary tiramisu-ness: coffee, vanilla, cookie. It's tough for us to think of a more suitable holiday-beer profile off the top of our heads: this one offers a lean and well-hidden boost of alcohol and a vast range of flavor profiles led by fresh berries, adding up to fruitiness plus chocolate, and nothing whatsoever spice-heavy.

Click here to read or download this month's full newsletter.
As always, if you have any questions or want something different from what we have listed above, please contact our Customer Service Team at 800-625-8238 and we will do what it takes to make it work.
Cheers!
Kristina Manning
Customer Service Manager