Rare Beer Club 6-Bottle Selections - April 2017

---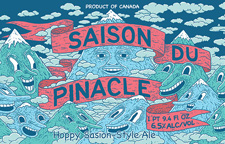 Saison Du Pinacle
Brasserie Dunham — Dunham, Québec, Canada

[Hoppy Farmhouse Ale w/ Rye, Oats, Wheat & Brettanomyces - 6.5% ABV]
Founded in June of 2011, Brasserie Dunham has been making a major impact on the world beer scene in the time since. The latest RateBeer Best competition in February named Brasserie Dunham the top brewery in all of Canada as well as one of the top 100 breweries in the world overall (for the fourth straight year). While inspired by the European classics, the brewing team has also found a lot of inspiration in their hometown of Dunham and the surroundings, working with local farmers to source ingredients. Additionally, they're constantly tweaking the yeast blends for their wild beers and saisons, including testing spontaneous fermentation and cultivating wild yeast strains from the local air. 90% of Dunham's entire production gets consumed within Québec, with only very light US distribution - only 70 cases of this month's Saison du Pinacle made it here in 2016, sprinkled throughout just 4 or 5 states. We hope you enjoy it as much as we did!
While reminiscent of a Belgian IPA at times, Saison du Pinacle is a markedly different creation: a massively refreshing hybrid landing between saison and IPA. It's a delicious bottle-conditioned farmhouse ale, packed with additions of oats, rye and wheat, and potently hopped with varieties from the U.S. (Citra and Simcoe) and Australia (Topaz). This pours slightly hazy, a deep golden-orange capped by significant foam. Bright Citra and Simcoe aromas appear as deep dank grapefruit, orange and pine, while the Topaz contributes some tropical, almost lychee-like notes. This is nicely dry on the palate with a welcome, juicy bolt of hop bitterness throughout. The Brett is a modest presence at this point, bringing in a bit of acidity and helping to further dry this beer out. Saison du Pinacle is nicely attenuated and crisp, refreshing but welcomely bitter, with a touch of subtle spiciness courtesy of the rye - a welcome contrast to all of the different fruit.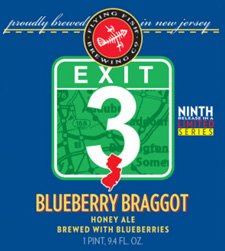 Exit 3: Blueberry Braggot
Flying Fish Brewing Company — Somerdale, New Jersey

[Honey Ale w/ Blueberries - 15% ABV]
Founded in 1995 by Gene Muller, a graduate of America's oldest brewing school at Chicago's famed Siebel Institute, Flying Fish has been impressing beer lovers ever since. Winners of multiple awards from the GABF and others, Flying Fish offers several year round beers - but it's their various seasonal and special offerings, including super small batch one-offs and barrel aged beers, which have really grabbed our attention. Their Exit Series celebrates the diversity of their home state in a rotating release of beers dedicated to different exits of the New Jersey Turnpike. This month's featured Exit 3 is especially limited, with only about 60 cases distibuted outside The Rare Beer Club, and to just a handful of states.
Braggot is a style which employs a large amount of honey in addition to grain, and thus it lives as a sort of hybrid of beer and mead. With so much fermentable honey, it's no wonder Exit 3 tips the scales at 15% ABV! This brew is big and burly, with a nice viscosity to it, but it's also pleasantly bright and kicks up a nice head. Aromatics head in directions of honey and dates, a full range of ripe fruits (apple, pear, even banana-like esters), and properly contrasting notes of white pepper and spices. The local blueberries show through more on the palate, contributing a subtle plump, ripe berry note alongside the wider-ranging elements of spice and honey. It adds another welcome angle, without necessarily pushing into full-blown fruit-beer turf. Fermented with both a Belgian-style yeast strain and a Champagne strain, there's a whole lot of complexity here: pepper, cloves, the aforementioned banana esters, yeasty sourdough, fresh-baked bread. It's the perfect balance beside the layers of honey. Subtle bubbles and a touch of warmth contribute to a feeling of far-greater lightness than we'd expect at 15%, and the amount of complexity in this beer caught us off guard. Enjoy!

Click here to read or download this month's full newsletter.
As always, if you have any questions or want something different from what we have listed above, please contact our Customer Service Team at 800-625-8238 and we will do what it takes to make it work.
Cheers!
Kristina Manning
Customer Service Manager