Rare Beer Club 6-Bottle Selections - September 2017

---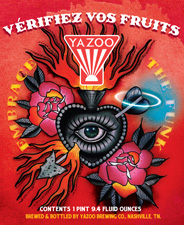 Vérifiez Vos Fruits! [Rare Beer Club exclusive]
Yazoo Brewing Company — Nashville, Tennessee

[Belgian-Style Strong Golden Ale aged in Merlot barrels w/ Cranberries, Tart Cherries & Dark Sweet Cherries - 10% ABV]
Yazoo Brewing Co. opened up in Nashville in October of 2003 with a keg-only lineup of staple beers and quickly took home GABF gold in 2004. Bottling began in 2005, though much of their production (particularly some of the special releases in their Embrace The Funk lineup) remain keg-only to this day, and distribution's mostly limited to TN and MS. Yazoo began their Embrace The Funk series in mid-2012, bringing in local writer and wild-beer specialist, Brandon Jones. The program-from which this month's Rare Beer Club exclusive offering was born!-focuses on wild yeasts, funky bacteria, and a whole range of barrel treatments.
This month, in partnership with our friends at Pints for Prostates, we're thrilled to offer Yazoo's Vérifiez Vos Fruits! as a Rare Beer Club exclusive. A donation will be made to Pints for Prostates for every bottle sold. The hefty base beer is somewhere between a tripel and golden strong ale, and its incredibly intricate yeast profile originates from Chimay Saccharomyces and 12 (!) different strains of Brettanomyces, plus souring bacteria and over a year of aging in French oak merlot casks. It was then refermented with cranberries, sweet dark cherries and tart cherries, making this one of the most intriguing beers we have sampled in a long while. This pours a darker cherry and cranberry color, and the combo of a vibrant core fruit character fits together perfectly with a spicy, cinnamon-tinged Brett character, and the accompanying notes from the peppery Chimay yeast give a welcome edge. There's pleasant acidity here, but it isn't aggressively sour. The French oak provides some almond and just a hint of vanilla, further contributing to a roundness and ideal counterpoint to all of the fruit-forward elements. We get figs, dark cherries, cinnamon, spice,with everything nicely dried out by the Brett.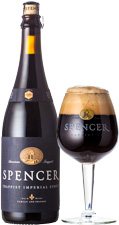 Trappist Imperial Stout
Spencer Brewery —Spencer, Massachusetts
[Anglo-Russo Imperial Stout - 8.7% ABV]
For over six decades the Trappist brothers of St. Joseph's Abbey in Spencer, MA have produced jams & jellies for sale to the public to support the monastery and its charitable work. Several years ago, one of the monks took an interest in brewing and trained at a local brewery. Inspired by him, more brothers began to share his interest and for two years they gathered info and took multiple trips to visit existing Trappist breweries. Starting with Westmalle and finishing at Sint Sixtus (Westvleteren), the brothers toured around Belgium learning all they could from their fellow monks, and in 2013 they began Spencer Brewery, America's first and only Trappist brewery. In addition to traditional abbey-style beers, the monks produce styles not typically associated with the Trappists, including an IPA, a German-style Pilsner, a darker "Festive Lager", and, as one of our featured beers this month, their exquisite Trappist Imperial Stout. Very little of this beer sees distribution, with less than 100 cases having seen the light of day this year beyond the club.
We've enjoyed everything we've sampled from Spencer-but Trappist Imperial Stout blew us away. It offers the drinkability and hugely complex malt range of the finest Belgian strong ales, and adds in the delicious roast and bitter-chocolate qualities of the tastiest imperial stouts. There's a surprisingly firm hop bitterness here, amplified by dark roastiness, yet the spicy Belgian-style yeast character puts it on a whole different level. Hugely unique stuff. Aromas pour out of the glass: rich caramels, cola & chocolate, dark roastiness, plenty of spice, and subtle mint & herbaceous hops. There's a ton of nuanced flavors: dense roast and dark chocolate, loads of rich caramelization, toffee, chocolate cake, cotton candy, coffee-all amidst a perfect texture. The yeast character adds extra nuance that takes this imperial stout up another few notches: warming spices and pepper, notes of smooth almond and vanilla, even hints of cinnamon and nutmeg.

Click here to read or download this month's full newsletter.
As always, if you have any questions or want something different from what we have listed above, please contact our Customer Service Team at 800-625-8238 and we will do what it takes to make it work.
Cheers!
Kristina Manning
Customer Service Manager