Alesong Brewing & Blending: September 2017 Special Offer

On the heels of our recent feature, Alesong's Raspberry Gose, we're delighted to have the opportunity to present four additional—and very, very limited-production—beers to our club members. At Alesong, there is no flagship beer, nor specific time-tables. Instead, blends come together and are released as the maturing beers are ready. The brewery is always focused on new and interesting creations rather than trying to replicate the irreplicable act of long-term barrel-aging. It makes for a lot of fun, inventive releases, and uber-rare tasting experiences. You're not going to forget about this brewery anytime soon after sampling these!
Please note: All bottles in this offer measure 500ml.
Cheers!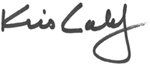 Kris Calef
President
---
For the PDF version of the Special Offer Newsletter, Click Here. The order form follows the beer descriptions below. To jump to the order form now, Click Here.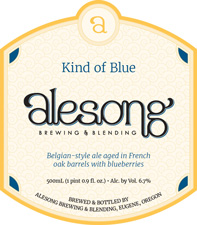 Kind of Blue

Alesong Brewing & Blending – Eugene, Oregon
Style: Belgian-Style Ale aged in French-Oak Oregon Pinot Noir Barrels w whole local blueberries

ABV: 6.7%
Serving Temp: 44-52° F
Suggested Glassware: Tulip, Lambic Tumbler or Pinot Glass
Alesong's Kind of Blue offers up a delicious and potent experience to kick off this Rare Beer Club special offer. This was aged in French Oak barrels (previously filled with Oregon Pinot Noir) and includes a full melange of microbes: more tame Saccharomyces yeast, plus a blend of Brettanomyces and Lactobacillus. It also incorporates whole blueberries that were grown in the Willamette Valley, to the tune of two pounds per gallon. There's a whole lot going on in this one-and we're just getting warmed up. Only 250 cases were made, which is far more than any of the other Alesong beers in this offer. We're big fans of these folks, and many of you may recall their Blackberry Gose (a recent feature in The Rare Beer Club). We wanted more!
This pours a bold, ruby-ish color that also hints at its blueberry origins, with a modest off-white foam. The aromatics are immediate and mouthwatering: tart blueberries and cherries along with an engaging savory counterpoint of fruit leather, subtle spice and barnyard funk. The acidity lands at the forefront of things on first pour, but we loved how this one opened up with a bit of time in the glass, expanding to darker berries, lemon zest, toasted almonds...
There's a lot of fruit upfront in the flavor, carrying lemony and funky acidity along with it, as those aforementioned leather and spice elements take a secondary role. Modest carbonation allows you to really dig into this one: the jolt of tartness carries things, with smoothing notes from the oak barrels (soft vanilla and almond, with just a hint of tannins) helping everything stay focused despite how much is going on here. Earthy undertones from the Brett make it so much more nuanced than you're going to get from a kettle sour-it's beers like this one that make us appreciate just how much depth you can get from mixed fermentation. Yum.
Pairing & Aging Notes:
This is bottle-conditioned with plenty of acidity, so some months in the cellar should be just fine, but do note that the bright fruit character will tend to dissipate over time. For pairings, that plush blueberry character had us thinking goat cheese: creamy chevre or, given options, Cypress Grove's Humboldt Fog (one of our favorites for lambic-ish sour beers in general).
---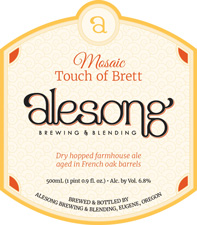 Touch of Brett Mosaic

Alesong Brewing & Blending – Eugene, Oregon
Style: French Oak Barrel-Aged French-Style Saison w/ a blend of Brettanomyces & dry-hopped w/ Mosaic Hops
ABV: 6.8%
Serving Temp: 44-52° F
Suggested Glassware: Tulip, Small Nonic or Chardonnay Glass
Where Kind of Blue leads with impactful acidity, plush berries and the more savory aspects of Brettanomyces, Touch of Brett Mosaic lands with a bright combo of citrusy Brett and a surplus of grassy, herbal hop character. It's an incredibly refreshing mix of hops and Brett that reminded us a whole lot of Gabe Fletcher's brilliant work up at Anchorage Brewing. Of the four Alesong beers in this special offer, this one disappeared fastest from our glasses.
This one includes a blend of Brettanomyces strains and saw aging in Oregon and California Pinot Noir barrels. After that: a generous dry-hopping of Mosaic. 180 cases were produced.
The aromatics on this are gorgeous: white pepper, fresh lime, juicy pineapple... There's a ton of tropical fruit elements coming through from seemingly both the Brett and the Mosaic, as herbal and grassy notes play a secondary role to the fruit. The underlying saison qualities are helpful focusing the elements here, bringing that white pepper with spicy notes, plus a touch of contributing oakiness (almond, vanilla, with very light tannins in the flavor). Yes, please.
Where Kind of Blue went lighter on the carbonation, this one is better suited to more of an effervescent profile, and zesty bubbles do well to both bring out an exceptional aroma while providing a lively, perfectly tuned mouthfeel for what's going on here. That citrusy lime and grassy core counterpoints its modest lemony acidity, with lots of tropical elements making a contribution: the abovementioned pineapple plays a key role, with passion fruit and kiwi. As this warms, a bit more of those underlying oak barrels appear, adding smooth toastiness. We absolutely loved this saison-and kinda wished we'd been a bit slower to make it disappear.
Pairing & Aging Notes:
The bottle conditioning and acidity give this some sturdiness, but we'd definitely encourage our Rare Beer Club members to enjoy this dry-hopped beer fresh, to savor more of those grassy and tropical elements. For pairings: citrusy salads, grilled vegetables, grilled seafoods.
---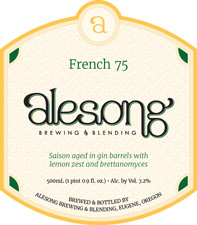 French 75

Alesong Brewing & Blending – Eugene, Oregon
Style: French-Style Saison aged in Oregon-distilled Old Tom Gin Barrels w/ Brettanomyces, Fresh Lemon Zest & Gin Botanicals
ABV: 7.2%
Serving Temp: 44-52° F
Suggested Glassware: Tulip, Small Nonic or Chardonnay Glass
Here we go... If you've ever tried gin-barrel-aged beers along the lines of Gigantic Brewing's incredible Pipewrench, you probably have a pretty good sense of what gin's botanicals bring to the right base beer. Here, nine months or so in Old Tom gin barrels from Oregon provide this French-style saison with incredibly herbaceous outfittings, and those additions of lemon zest and a mix of actual gin botanicals ensure that you're getting the full experience. If you're into complex gins (we're big fans of St. George's stuff in Alameda, California)-we definitely have a beer for you. An exceptional marriage of barrel-aged saison and special additions. Just 45 cases were made.
While similarly refreshing to the Touch of Brett Mosaic, this one's more herbal than tropical, and brings a bit more potency throughout. The aromatics are full of juniper and lemon, as a complex mixture of freshly cracked pepper, herbs and spices provides this with a huge level of intrigue. As it warms, those botanicals continue to amplify. No evident alcohol. No sorts of rough edges. Just some of the most impressively integrated gin character we've ever had.
If you've ever tried Finnish sahti, a traditional beer made from juniper, you might find some key parallels in this beer from Alesong. But this one's also a lot smoother and more mellow than many of the brusque sahtis we've tried over the years, and those additional elements of soft barrel character and lemon zest take this in a wholly unique direction flavor-wise. There is an effervescence similar to Touch of Brett Mosaic, which keeps this feeling lively, as notes upon notes of herbaceous and peppery contributions play out across the tongue. Following the aroma: nothing sharp here-just an effortless display of the very best qualities of potent gin atop a perfectly tuned French-style saison. A nicely dry, bitter finish lands this perfectly.
Pairing & Aging Notes:
We'd be inclined to allow a little more of a cellaring window for this than Touch of Brett, as the core flavors seems a bit less volatile, but we're also more likely drink it fresh given how it happens to be tasting now. The herbal focus suggests pairings of baked fish or roasted duck.
---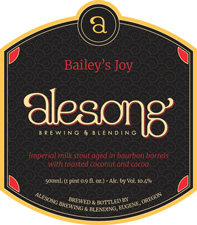 Bailey's Joy
Alesong Brewing & Blending – Eugene, Oregon
Style:Blend of Imperial Stouts aged in Old Forester & Early Times Bourbon Barrels w/ Toasted Coconut & Nigerian Cocoa Beans
ABV: 10.4%
Serving Temp: 54-62° F
Suggested Glassware: Snifter, Tulip or Cabernet Glass
This very limited offering from Alesong (50 cases!) is in collaboration with Portland's stellar Bailey's Taproom-and it's without a doubt an ideal endcap to an exceptional collection of beers from Alesong. You're not going to forget about this brewery anytime soon after these.
Smooth milk-chocolate aromatics combine with a huge range of darker-malt character (no Brett needed here!) to create a lush, endlessly plush nose that brings in roast, cocoa, coffee and sweet underlying bourbon character from the time spent in barrels. Let this one warm up and see how broadly that aroma expands. The flavor brings just as much and more, with that imperial milk stout core working beautifully with the barrel character. There's a vein of charred barrel and vibrant bourbon here that integrates seamlessly with that core mega-milk-stout experience, creating a barrel-aged imperial stout character that's otherworldly. Roasted malt and toasty barrel, almond, well-roasted coffee, endless chocolate... World-class stuff.
Pairing & Aging Notes:
It's hard for us to strongly recommend aging any of these beers-as they're all drinking great at the moment. This definitely has more opportunity for aging than most of the others, but it is also very much worth checking out upon arrival. That coffee, roast, etc. definitely have us feeling like firing up the grill and making a quick flank steak or (if time) something beefier.

Click here to read or download the full special offer newsletter.
As always, if you have any questions or want something different from what we have listed above, please contact our Customer Service Team at 800-625-8238 and we will do what it takes to make it work.
Cheers!
Kristina Manning
Customer Service Manager