961 Beer - Lebanese Pale Ale
ABV:

6.3%

Bottle Size:

330-ml

Serving Temperature:

42-47° F

Suggested Glassware:

Tulip or Pint Glass
This unique brew is the first of 961's "Brewmaster's Select" range, and was brewed in collaboration with elite Danish brewmaster Anders Kissmeyer – a name that may be unfamiliar to many craft beer drinkers in the U.S. despite his influence on the brewing industry around the world. But take it from Shaun Hill of Vermont's famed Hill Farmstead Brewery, who says of Kissmeyer: "… Anders has been a mentor to me. Together, we often explore and discuss the curiosities of beer and brewing. We both believe that there are no absolute truths in brewing – yet both adhere to trying to define a beer that is "of the place" and has a soul." We can't think of a better example of a beer that is "of the place" than this Lebanese Pale Ale. Kissmeyer and 961's Mazen Hajjar started with an English-style IPA as the core idea, while weaving in an intriguing Lebanese spice mixture of thyme, sumac, chamomile, sage, anise, and mint.
Light amber on the pour, with a robust head of light beige foam, this brew offers up a very expressive and unusual herbal spice aroma. The impression reminds us very much of many European "gruit" ales, which was a type of spiced beer brewed in medieval times before the use of hops became widespread and supplanted gruit spice mixtures as the chief bittering element in beer. On the palate, we found this pale ale as much of a trip as it is in the aroma. There's a nice balance between the beer's unusual and somewhat tangy spice and hop elements on one hand, and the beer's malt backbone on the other, which provides a familiar dose of caramel, mild toast, and a hint of residual sweetness. For pairing options, Middle Eastern cuisine is the natural place to look; try well-spiced lamb, beef, or chicken kebabs with a side of sumac rice. Cheers!
The story of 961 Beer begins in an unlikely place, at a most unlikely time. In the midst of the July War of 2006 in Lebanon, Mazen Hajjar, a young former investment banker and founder of two airlines, was looking out from his balcony as bombs were falling and the building was shaking. Just three days prior he had picked up a book called Beer School, a retrospective written by the founders of Brooklyn Brewery, Steve Hindy and Tom Potter. Hindy, who was an AP journalist in Lebanon during the civil war in the '80s, began the first sentence of the book by recounting the experience of being awoken by the sounds of explosions outside his hotel. Struck by the coincidence and excited by inspiration, Hajjar called his friends over to begin—what else?—brewing beer, and the first step was taken towards the founding of the Middle East's first microbrewery.
At first the scale of production was miniscule for the 961 brand (which takes its name from Lebanon's telephone country code), with batches brewed on home stoves and weighing in at just 20 liters. But word got out about the friends' hand crafted beers, and demand began to rise. No more than a half dozen (mostly insipid) beers were available in Lebanon in 2006, so 961's assortment of styles, including porter, witbier, red ale, pale ale, and helles lager, were an eye opener to the local Lebanese. Ingredients like rich British caramel malts and fruity, citric Amarillo hops made for quite the welcome burst of flavor compared to the myriad light lagers that pervade the Mediterranean region.
These days, 961 Beer produces just a few hundred thousand cases per year, which is still a fairly small amount even when compared to many other craft breweries, but represents a huge success for a company that has unquestionably created a new market for craft beer among a population that had never before been exposed to it. Three cheers to Hajjar and his fearless (some might say crazy) friends who started a microbrewery during a war and blockade and have nevertheless succeeded in pushing out the boundaries of the craft beer universe a little bit further. With a commitment to regional development, the next steps for the brewery include growing or sourcing hops and barley locally and expanding into new markets. 961 began exporting to the US in limited amounts just a few years ago, and we're very excited to have the opportunity to bring our members beer from this groundbreaking microbrewery. To learn more, visit them at www.961beer.com.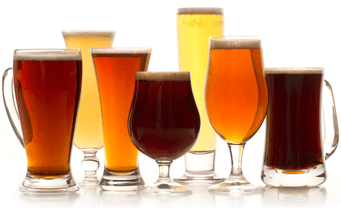 Unmatched Variety by style, brewery & country
Choose from Five different Beer Clubs offering unmatched variety by brewery,
country of origin, and beer style to suit your specific tastes.
DISCOVER OUR FIVE CLUBS