Arcadia Brewing Company - Starboard Stout
ABV:

5.6%

Int'l Bittering Units (IBUs):

29

Serving Temperature:

40-45° F
If you like 'em dark, we have a tasty treat for you. Starboard Stout is classified in the unique category of Irish Oat Malt Stout. Look for a deep, near black hue with garnet undertones. We found it to be quite robust, yet well balanced. Note a chocolaty roasted malt character and a creamy mouth feel. Look for a complex and subtle hop flavor and aroma, a result of the use of both Willamette and Fuggles hops. We enjoyed this beer's prominent coffee-like roasted malt characteristic very much. This shining star would pair nicely with seared ahi or a simple platter of aged Stilton cheese.
Beer Barbecue Sauce

Delicious as a basting sauce for charcoal grilled hamburgers or hot dogs or steak this beer-heightened sauce doubles as a tenderizing marinade for economy cuts.

¼ cup oil
1 small onion, chopped
1 clove garlic, chopped
6 tablespoons lemon juice
2 cups St. Stan's Amber Ale
2 cups chill sauce
1 tablespoon Worcestershire sauce
1 teaspoon salt

Heat oil and sauté onion and garlic until soft. Add lemon juice, amber ale, chili sauce Worcestershire and salt. Cook over medium heat until sauce bubbles, about 5 minutes. Use sauce to brush meat during grilling. As a marinade, cover thick chuck or round steaks completely with sauce and let stand in refrigerator for several hours.


Yo Murlster!

I was kicking it in my favorite Irish bar the other day, the Harp Inn, and got to wondering, based on how hammered folks tend to get at this fine establishment, if dark beers are stronger than light beers. Most are suckin' down pints of Guinness, thus the basis of my hypothesis. Big word I know. I figured you could help solve the dilemma.

Jason O'Donnell

Costa Mesa, CA

Well then there Jason-me-boy,

So you be wonderin' why you and your mates generally inebriate yourselves more so than those that appear to be tossin' back the lighter brews, then are ya? The Dark beer equates to stronger beer theory is one that most of you wee green lads like to hold dear as it would imply that you boys can in fact handle your liquor better than most after downing 14 or 15 pints-o-Guinness!

Albeit true that the Irish, as a general population, do seem to be able to drink more than most and remain at least vertical, the fact that Guinness weighs in at a mere 4.2% alcohol by volume compared to the swill cranked out at bud which tops it at 5.0% ABV, does shed some light on the issue. It is generally thought true that darker beers carry higher ABV's and I'm here to tell ya lads, that it's pure Blarney!

True, many darker brews are in fact significantly stronger than lighter mass produced beers but it's not a rule you can live by. Malt type determines the color of the brew, but not the strength. In fact, there are several lighter Belgian beers and pale bocks, like Duvel for example, that are gonna hit yer brainpan 2-3 times harder than your average Guinness! Hope that help clear up the dilemma for ya my boy!

Woof!

Murl.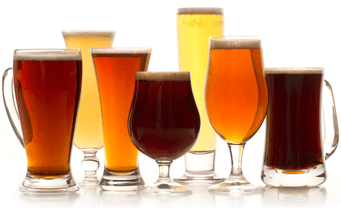 Unmatched Variety by style, brewery & country
Choose from Five different Beer Clubs offering unmatched variety by brewery,
country of origin, and beer style to suit your specific tastes.
DISCOVER OUR FIVE CLUBS